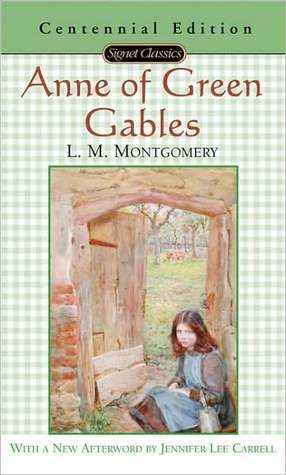 When Marilla Cuthbert's brother, Matthew, returns home to Green Gables with a chatty redheaded orphan girl, Marilla exclaims, "But we asked for a boy. We have no use for a girl." It's not long, though, before the Cuthberts can't imagine how they could ever do without young Anne of Green Gables--but not for the original reasons they sought an orphan. Somewhere between the time Anne "confesses" to losing Marilla's amethyst pin (which she never took) in hopes of being allowed to go to a picnic, and when Anne accidentally dyes her hated carrot-red hair green, Marilla says to Matthew, "One thing's for certain, no house that Anne's in will ever be dull." And no book that she's in will be, either. --Emilie Coulter (review of an abridged version)
[from
Goodreads
]
Rating: 5 out of 5 boxes
Target Audience: The young at heart, the imaginative, anyone who feels different or out of place
High point: Anne and her well-described world
Low point: None
Reader maturity: 7+
Favorite quotes:
"Kindred spirits are not so scarce as I used to think. It's splendid to find out there are so many of them in the world."
"My life is a perfect graveyard of buried hopes."

I can hardly begin to describe this book so I'll just start where I can. Simply put, this is a coming-of-age tale of an orphaned, red-headed girl with an imagination far larger than the small town to which she is sent. After being taken in by two unmarried siblings, she struggles to find her place in the world and reign her imagination in to more productive outlets with many humorous events and mild misfortunes along the way. Of course, being Anne-with-an-E, she manages to make the reader, the elderly inhabitants of Green Gables and the uptight citizens of Avonlea love her dearly in the process.
This is a wonderful book. Almost every avid female reader that I have ever known, read and loved these books as a girl. Even after years apart from them, I can read them again and fall in love with the tales all over again. Anne is an engaging main character, quirky and different and oh-so-sincere. When I was a little girl, I related to her troubles fitting in and trying hard to impress...and I still so.
Anne's outlook on life is admirable. With a tendency towards melodrama in her earliest Avonlea encounters, she tries to accept things as they come, using her imagination to make them bearable. When given the chance to thrive, she
thrives
, striving to beat Gilbert Blythe in everything and encouraging her friend Diana to go beyond what is expected as well. Her intentions are misunderstood by almost everyone, but because her nature is true and good, everything turns out well in the end. This might seem like it has the potential to become too sticky-sweet and Pollyanna for the modern reader, but Ms. Montgomery maintains realism and likability and just enough mischief to keep the reader involved and interested.
This is a great book for women of any background, young or old, and perhaps even a man or two willing to be caught with the title. We could all use a little more earnestness and a whole lot of imagination in our lives.
Title: Anne of Green Gables
Author: L. M. Montgomery
Genre: Children's Fiction and Literature
Year: 1908
Book Source: Purchased