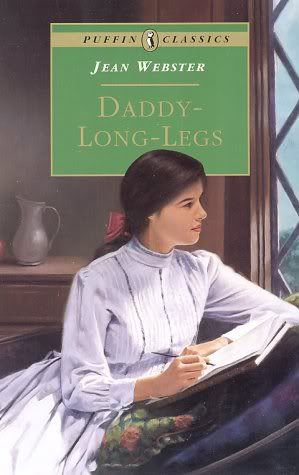 The oldest at a dreary home for foundlings, Judy Abbott finds her life completely changed when, with the help of a mysterious benefactor, she is granted her wish to be able to go to college. A meeting with the rich, handsome uncle of her snobbish roommate sets Judy on the road to discovering her secret friend.
[from
Goodreads
]
First published in 1912, this is a modern version of "Cinderella", told in the form of letters. It is the love-story of an orphan and her unknown benefactor...
[from
Goodreads
]
Rating: 5 out of 5 boxes
Target Audience: Pre-teen girls, any woman who has ever wished to be swept off her feet by a mysterious Prince Charming
High point: The main character's charming ignorance of her benefactor
Low point: None
Reader maturity: 10+
Favorite quotes:
"It isn't the big troubles in life that require character. Anybody can rise to a crisis and face a crushing tragedy with courage, but to meet the petty hazards of the day with a laugh - I really think that requires spirit."
"I went to bed last night utterly dejected; I thought I was never going to amount to anything, and that you had thrown away your money for nothing. But what do you think? I woke up this morning with a beautiful new plot in my head, and I've been going about all day planning my characters, just as happy as I could be."
This is one of those rare books that I come back to, time and time again, for years after the first reading. I first read Daddy Long Legs at age 8 or 9 and failed to understand some of what was going on but enjoyed the book anyway. Upon later readings, I realized the romance aspect of the novel and so now I come back to it when I want a sweet, simple romance.
The main character Judy, an orphan, is bestowed a generous allowance for schooling provided that she follow certain requests. The novel progresses through letters to the benefactor and shows the character's growth from a frightened ward to a capable young woman. The humor in the novel lies in that the reader discovers the benefactor before the female protagonist, and one can sympathize with her actions and those of the benefactor. The excitement of Judy for her new opportunities bubbles off the page as she makes a better place for herself in the world.
This is not a classic in the sense of novels such as Pride and Prejudice, but it speaks to every generation of girls wistful for a mysterious romance, as well as catering to the orphan stories that surely play out in the imaginations of young girls even today. Older girls (and young women and older women) will enjoy the story too for its subtle sweetness, innocence and youthful energy.
Title: Daddy Long Legs
Author: Jean Webster
Genre: Young Adult Fiction and Literature
Year: 1912
Book Source: Purchased