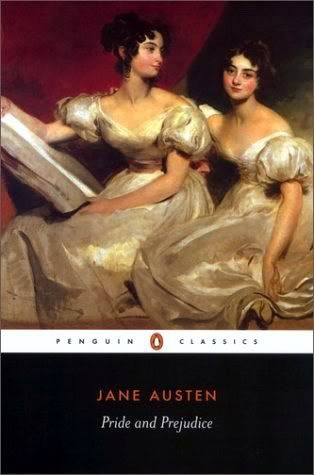 "It is a truth universally acknowledged, that a single man in possession of a good fortune, must be in want of a wife."
Next to the exhortation at the beginning of Moby-Dick, "Call me Ishmael," the first sentence of Jane Austen's Pride and Prejudice must yep be among the most quoted in literature. And certainly what Melville did for whaling Austen does for marriage--tracing the intricacies (not to mention the economics) of 19th-century British mating rituals with a sure hand and an unblinking eye. As usual, Austen trains her sights on a country village and a few families--in this case, the Bennets, the Philips, and the Lucases. Into their midst comes Mr. Bingley, a single man of good fortune, and his friend, Mr. Darcy, who is even richer. Mrs. Bennet, who married above her station, sees their arrival as an opportunity to marry off at least one of her five daughters. Bingley is complaisant and easily charmed by the eldest Bennet girl, Jane; Darcy, however, is harder to please. Put off by Mrs. Bennet's vulgarity and the untoward behavior of the three younger daughters, he is unable to see the true worth of the older girls, Jane and Elizabeth. His excessive pride offends Lizzy, who is more than willing to believe the worst that other people have to say of him; when George Wickham, a soldier stationed in the village, does indeed have a discreditable tale to tell, his words fall on fertile ground.
Having set up the central misunderstanding of the novel, Austen then brings in her cast of fascinating secondary characters: Mr. Collins, the sycophantic clergyman who aspires to Lizzy's hand but settles for her best friend, Charlotte, instead; Lady Catherine de Bourgh, Mr. Darcy's insufferably snobbish aunt; and the Gardiners, Jane and Elizabeth's low-born but noble-hearted aunt and uncle. Some of Austen's best comedy comes from mixing and matching these representatives of different classes and economic strata, demonstrating the hypocrisy at the heart of so many social interactions. And though the novel is rife with romantic misunderstandings, rejected proposals, disastrous elopements, and a requisite happy ending for those who deserve one, Austen never gets so carried away with the romance that she loses sight of the hard economic realities of 19th-century matrimonial maneuvering. Good marriages for penniless girls such as the Bennets are hard to come by, and even Lizzy, who comes to sincerely value Mr. Darcy, remarks when asked when she first began to love him: "It has been coming on so gradually, that I hardly know when it began. But I believe I must date it from my first seeing his beautiful grounds at Pemberley." She may be joking, but there's more than a little truth to her sentiment, as well. Jane Austen considered Elizabeth Bennet "as delightful a creature as ever appeared in print". Readers of Pride and Prejudice would be hard-pressed to disagree. --Alix Wilber
[from
Goodreads.com
]
Rating: 5 out of 5 boxes
Target Audience: Classics fans, anyone looking for clean romance and a sensible heroine
High point: The growth of the Darcy/Lizzie relationship
Low point: None
Reader maturity: 10+
Favorite quotes:
"It is a truth universally acknowledged that a single man in possession of a good fortune must be in want of a wife."
"My affections and wishes have not changed, but one word from you will silence me forever. If, however, your feelings have changed, I will have to tell you: you have bewitched me, body and soul, and I love, I love, I love you. I never wish to be parted from you from this day on."
This is one of my favorite books of all time. If I were to be stranded on an uninhabited island and could only have one book of my choice with me, this would be it. I can hardly describe the splendor of this book, an unmatchable aggregate of comedy, drama and romance.
The relationship between Darcy and Lizzy, from the very beginning, is relatable. Lizzy Bennet is the everywoman of literary heroines. She is always true to herself and loyal to her family, while still maintaining the appropriate appearance for someone of her class and while showing better manners than many of her nominal betters. She comes by her mistakes honestly, and in the end, admits them just as honestly. Though unfailingly above reproach in her actions, her character is certainly a force to be reckoned with, as shown by certain conversations between herself and Darcy, Collins and Lady Catherine.
Jane Austen does a fine job walking the line between comedy and irritation with the characters of Lydia and Mrs. Bennet. Their immaturity is frustrating but is shown just enough to be comical and make us sympathetic towards Lizzy without erring towards being an annoying and pointless addition. Jane, the eldest, is a saint, and yet also manages to be a lovable character and avoids coming across as insufferable, as almost perfect characters often do. Mr. Bingley is a goofy romantic interest, and his sister exhibits the most classic feminine wiles in her dealings with Mr. Darcy and, to an extent, her brother. Mr. Darcy, of course, is the epitome of the perfect male romantic interest. He professes love and then, when rebuffed, continues his pursuit patiently, waiting for Elizabeth to realize that they both made mistakes.
This is the novel to which I compare all other romances. Though it cannot be topped, it is still the story to which others aspire.
Title: Pride and Prejudice
Author: Jane Austen
Genre: Novel of Manners
Year: 1813
Book Source: Purchased at Borders