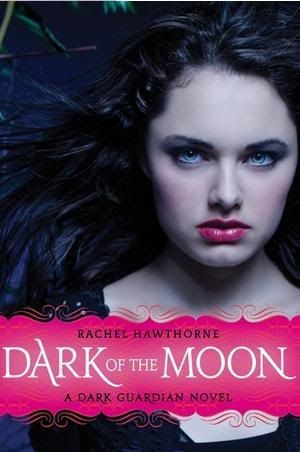 I've loved him forever, but he can never be mine.


BRITTANY is determined to prove herself to the Dark Guardians. And yet she's been keeping a devastating secret: She hasn't experienced any of the intense, early signs of change that mark a Dark Guardian's transformation. The only intense feelings she has are for Connor—and she's kept that a secret, too. But she knows she'll never truly have Connor's love if she's not a Shifter like him.
At the first full moon after her birthday, her greatest fear is realized: She doesn't transform. Brittany is so desperate to become a wolf that she'll go to extremes she never thought possible . . . and put all the Dark Guardians in incredible danger.
[from
Goodreads
]
Rating: 4 out of 5 boxes
Target Audience: Teens, anyone wanting a solid paranormal
High point: Brittany--she turned out to be amaaazing
Low point: This series still feels fluffy
Reader maturity: 13+
Dark of the Moon
completely redeemed the Dark Guardian series!
After my disappointment with the 2nd book,
Full Moon
, I was concerned to start
Dark of the Moon
, knowing that it centered around Brittany, who was my least favorite of the three girls of the series. However, I think Brittany's story may be even better than the 1st in the series,
Moonlight
.
So what turned my opinion of the series back around?
Well, for one thing, there was very little emotional waffling going on. Brittany did a lot of things that weren't, perhaps, the nicest things to do, but she had the pack's best interests at heart. She also had a plan and acted on it with certainty. There's a love story, of course, because that's how these books work, but it didn't feel as contrived or tortuous as the one[s] in
Full Moon
.
Also, Brittany is one hardcore female MC! She's ready to get in there and fight with the big boys, but she also knows when to hold back for the sake of her fellow Guardians. I also really liked Kayla's return in this one as the concerned friend, as well as Connor's role in the story. He didn't impress me much in
Full Moon
, but here in Dark of the Moon, I could finally see his appeal. He turned out to be pretty cool too.
If you enjoyed
Moonlight
or
didn't
enjoy
Full Moon
, I recommend you give the Dark Guardians another chance with
Dark of the Moon
.
Title: Dark of the Moon
Author: Rachel Hawthorne
Genre: Fiction - Supernatural
Year: 2009
Book Source: Won from YA Books Reviewed