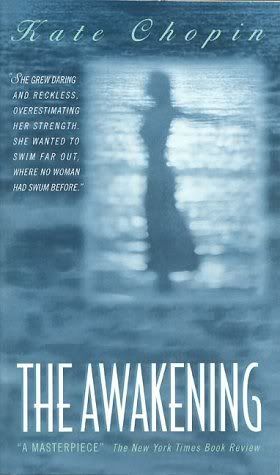 In the summer of her 28th year, Edna Pontellier and her children, along with the wives and families of other prospective businessmen, spend the summer in an idyllic coastal community away from their husbands and the sweltering heat of 1890s' New Orleans. Aware of deep yearnings that are unfulfilled by marriage and motherhood, Edna plunges into an illicit liaison that reawakens her long dormant desires, inflames her heart, and eventually blinds her to all else.
[from
Goodreads
]
Rating: 5 out of 5 boxes
Target Audience: Women of all ages, men who want to understand them, 1900s era feminists
High point: The vivid descriptions and symbolism of emotions and scenery
Low point: None
Reader maturity: 13+
Favorite quotes:
" 'Well, for instance, when I left her today, she put her arms around me and felt my shoulder blades, to see if my wings were strong,' she said."
"The voice of the sea is seductive, never ceasing, whispering, clamoring, murmuring, inviting the soul to wander in abysses of solitude."
The Awakening
chronicles Edna Pontellier as she discovers a life beyond being a mother and wife in the late 1800s. She defies tradition and experiments with being an independent woman, to the disapproval of her society friends and family. Symbolism abounds with purpose on every page, and Creole accents and traditions weave into the rich tapestry of the novel. Kate Chopin allows the reader to
feel
and
be
with Edna during her discoveries; alongside the main character, the reader aches for freedom and a chance to really live life the way it should be lived. The writing is thick and detailed in its flowing prose but is still a relatively easy read in modern times.
I first discovered
The Awakening
in high school and fell in love with Kate Chopin's works. Normally, symbolism and other tools used to analyze novels drove me away, but the vivid colors and images in The Awakening feltnatural and enhanced the reading experience. This is a book to savor for its brilliant construction, not one to rush through for a page-turning plot. The descriptions and settings are truly part of the reading experience.
The Awakening
presents not only an engaging story and cast of characters but also a glimpse into the Louisiana society of the time. Like many of Kate Chopin's stories, the ending is a surprise. Although initially dissatisfied with the close, I now believe there is no other way it could have ended with such impact and drama.
Title: The Awakening
Author: Kate Chopin
Genre: Women's Fiction, Drama
Year: 1899
Book Source: Purchased