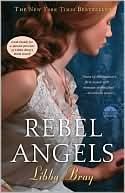 Closest Book:
Rebel Angels
Author: Libba Bray
Page 56, sentence 5:
" 'Let us begin our tale where it should begin--in a house at the edge of a very dark forest.'

The lights are lowered.

A hush falls over the crowd. There is no sound but the incessant tapping of cold rain against the martyred windows."
Rules:
* Grab the book nearest you. Right now.
* Turn to page 56.
* Find the fifth sentence.
* Post that sentence (plus one or two others if you like) along with these instructions on your blog or (if you do not have your own blog) in the comments section of Storytime with Tonya and Friends.
*Post a link along with your post back to Storytime with Tonya and Friends.
* Don't dig for your favorite book, the coolest, the most intellectual. Use the CLOSEST.