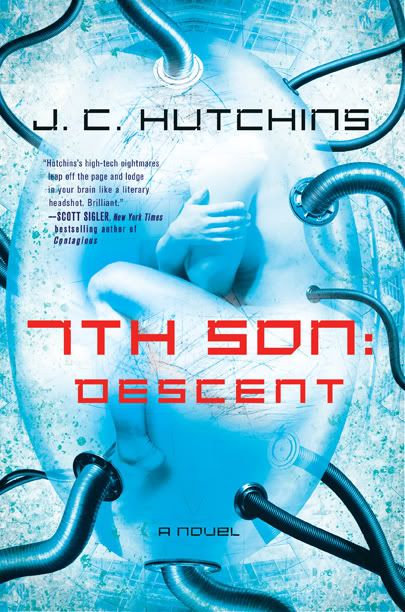 As America reels from the bizarre presidential assassination committed by a child, seven men are abducted from their normal lives and delivered to a secret government facility. Each man has his own career, his own specialty. All are identical in appearance. The seven strangers were
grown
-- unwitting human clones -- as part of a project called
7th Son
.
The government now wants something from these "John Michael Smiths." They share the flesh and implanted memories of the psychopath responsible for the president's murder. The killer has bigger plans, and only these seven have the unique qualifications to track and stop him.
But when their progenitor makes the battle personal, it becomes clear he knows the seven better than they know themselves...
[from
the author's website
]
Rating: 3.5 out of 5 boxes
Target Audience: Sci-fi geeks, mystery solvers
High point: Peeling away the layers of the cloning program
Low point: Following 7 different clones was confusing for the first few chapters
Reader maturity: 13+
Seven strangers, part of a super black-op government program, come together to solve a complex and puzzling crime after the assassination of the President and a taunt from the likely culprit to his clones. Secrets of the seven and how they came to be are revealed piece by piece as each member of the Beta group fights against time...and John Alpha.
This is not a typical book for me; I prefer fluffier science fiction when I delve into it at all, but this book blew me away. It reminded me a lot of Michael Crichton's work--well researched and written, very intellectual but disguised as entertainment. The science is explained bit-by-bit, leaving the reader intriguingly as confused as the seven clones and just as interested in figuring out the puzzles presented by the madman.
Descent
was a nice blend of science fiction and a murder mystery, just enough of both with a seamless transition between the two.
One thing I wish had been given is a meatier explanation of Alpha's craziness. I understand why he became a killer, and yet I really don't. Some of the good things about the book are the distinct personalities of each clone towards the beginning of the novel and then the slow demonstration of the similarities between the clones. At first, I had trouble keeping up with which clone was which, but the author reinforced the dominant traits often enough that I caught on. Overall, I enjoyed reading this book and would recommend it to anyone who enjoys mysteries and conspiracies.
Title: 7th Son: Descent
Author: J. C. Hutchins
Genre: High Tech and Hard Science Fiction
Year: 2009
Book Source: Won a copy from tor.com