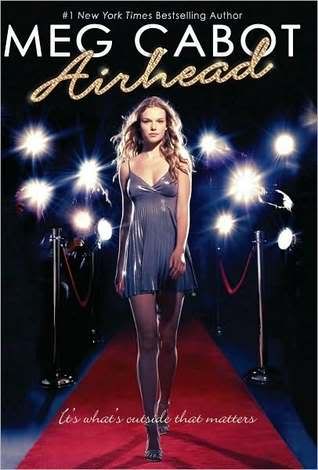 Emerson Watts, 16 and female, loves playing video games, hanging out with her best friend, Christopher, and has made peace with her less-than-supermodel-esque looks. But when she's involved in a mysterious accident, she wakes up to find she's now in the body of...a supermodel. Who was behind this switch? What was the motive? And how can she get Christopher to realize she's still the same person inside?
[from
Goodreads
]
Rating: 3.5 out of 5 boxes
Target Audience: Teens and Meg Cabot fans
High point: Uniqueness of plot
Low point: Missing some of the pizazz that Cabot's other books contain
Reader maturity: 10+
I went into Airhead with low expectations based on reviews that I read. That's a terrible way to start a novel, but I found it used for $1 and thought I'd give it a shot because I love most of Meg Cabot's work. Just a few pages in, I was very pleasantly surprised.
Airhead is a typical Meg Cabot chick lit YA novel, in a similar vein to Avalon High and How to be Popular. The story, about a girl whose brain is transplanted into a supermodel, is unique and fun, if a little scientifically unfathomable. The author does a wonderful job of blending Em's personality with Nikki Howard's quirks and the new life Em inherits in Nikki's body. The character of Em is also well written. Em handles the situation as well as could be expected, with the usual teenage insecurities and the grounded sense of self that Em carries over from her old life.
I was disappointed with the ending until I flipped the page and realized that there's a sequel. Well, thank goodness! I didn't want to be left hanging like that. While Airhead is not groundbreaking or the first of its kind, it is still worth picking up for fun, light reading and an ending that will leave you wanting more.
Title: Airhead
Author: Meg Cabot
Genre: Teen Fiction , Entertainment and Arts
Year: 2008
Book Source: Purchased