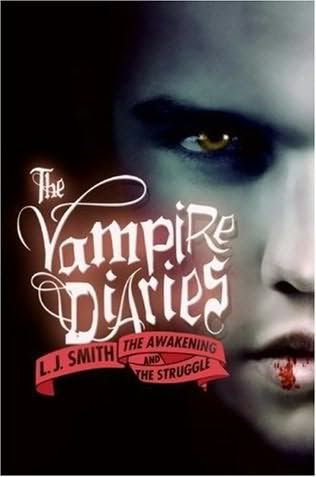 In this second volume in the popular series, Damon is determined to make pretty Elena Gilbert his queen of darkness. He would even kill his own brother to possess her. But Stefan, desperate for the power to destroy Damon, succumbs to his unquenchable thirst for human blood.
[from
Goodreads
]
Rating: 4 out of 5 boxes
Target Audience: Teens who love good vampire drama
High point: The depth of the characters, especially of Stefan and Elena
Low point: Almost everyone acts older than they really are
Reader maturity: 13+
The same likes and dislikes appear in
The Struggle
as they did in
The Awakening
although
The Vampire Diaries
really begins to find its groove.
The instroduction of Alaric Saltzman gives the novel a new dimension of mystery, and the characters of Bonnie, Matt and Meredith are expanded upon, giving them new depth and interest. Damon proves to be either more sinister or more sympathetic than he appeared in
The Awakening
, depending on the reader's point of view, which allows each re-read of the novel to reveal something new about him.
While still focusing on the terror invading Falls Church,
The Struggle
smoothly introduces new conflict that intertwines with the original problems to create a more than satisfactory sequel.
Title: The Vampire Diaries: The Struggle
Author: L. J. Smith
Genre: Young Adult Horror and Suspense
Year: 1991
Book Source: Purchased