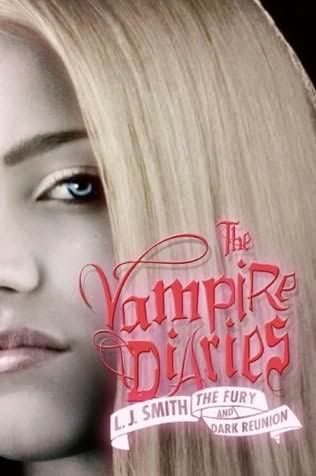 Tormented after losing the beautiful Elena, Stefan becomes determined to end the feud with his brother--no matter the cost. But mocking Stefan and Elena, Damon laughs in the face of doom.
[from
Goodreads
]
Rating: 4 out of 5 boxes
Target Audience: Teens who love good vampire drama
High point: The growth of the characters, especially Bonnie, Meredith and Damon
Low point: The unbelievability of so few people noticing Elena's return
Reader maturity: 13+
In The Fury, Elena Gilbert continues her quest to find the evil haunting Fell's Church. Her whole life has been turned upside down, and she is forced to rely heavily on her friends for help, while still trying to ferret out who in Fell's Church is friend and who is foe.
The Fury rectifies several of the sticking points from the last novel. Elena shows more vulnerability than ever before and matures beyond being a popularity queen to realizing that it's alright for her to rely on her friends for support. Bonnie and Meredith become even more 3-dimensional, displaying deeper aspects of their personalities than ever before. With their increasing humanity, they also become characters more appropriate to their fictional ages, losing much of the unexplained stodginess from the earlier books.
Many times, the 2nd sequel of a book tends to disappoint, but L. J. Smith delivers a novel that is just as enjoyable as the first and much more complicated because the plot has been brewing for months now. The Fury is a must-read addition to The Vampire Diaries.
Title: The Vampire Diaries: The Fury
Author: L. J. Smith
Genre: Young Adult Horror and Suspense
Year: 1991
Book Source: Purchased