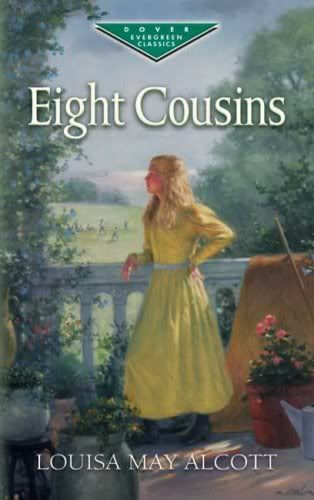 Rose Campbell, tired and ill, has come to live at "The Aunt Hill" after the death of her beloved father. Six aunts fussing and fretting over her are bad enough, but what is a quiet 13-year-old girl to do with seven boisterous boy cousins?
[from
Goodreads
]
Rating: 4 out of 5 boxes
Target Audience: Preteen and teenage girls, especially those with lots of brothers
High point: The distinct and inviting characters
Low point: Rose's uncle is unrealistically wonderful
Reader maturity: 8+
Favorite quotes:
"...The words 'we are sisters' went straight to her heart and nestled there.
"
"[She was] kept there in the sort of embrace a man gives to the dearest creature the world holds for him."
The first time I read
Eight Cousins
I was probably about 7 or 8, and I missed the underlying tone of the story. I didn't understand much of it at all. When I reread it a few years later, I loved it.
Rose is an orphaned young girl, taken in by her uncle after spending time with each of her many elderly aunts. Her uncle turns her world upside down, encouraging her to be her best--not as a female but as a person. She mothers to her 7 boisterous male cousins, settling arguments and teaching lessons and playing nurse. Under her uncle's care, she blossoms, leading to the sequel,
Rose in Bloom
.
Eight Cousins
is typical Louisa May Alcott, with a rowdy and unique cast of characters, each one with their own quirks. Rose's personality is a mix of the four sisters in Little Women; she's caring, smart, occasionally girl and fairly practical. The reader gets to watch as Rose learns to be her own person, not the coddled baby that she was before meeting her new guardian.
The antics of the 7 male cousins are highly amusing. They spend most of their time vying for Rose's attention, sometimes at the expense of another cousin. Rose is constantly trying to straighten them out and smooth over feelings and still make her aunts feel loved. Familial relations lead the conflict and the humor in the story--between the cousins, between Rose and the cousins, between Rose and the aunts, between the aunts and the uncle and sometimes all of them at once.
Eight Cousins
is a great read for all ages. It doesn't receive the recognition of some of Louisa May Alcott's other works, but it is just as wonderfully written and entertaining.
Title: Eight Cousins
Author: Louisa May Alcott
Genre: Children's Fiction and Literature
Year: 1875
Book Source: Purchased