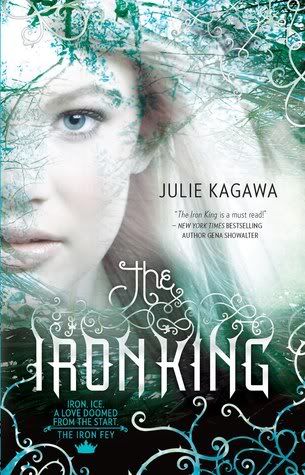 Meghan Chase has never fit in at her small-town high school, and now, on the eve of her 16th birthday, she discovers why. When her half brother is kidnapped, Meghan is drawn into a fantastical world she never imagined--the world of Faery, where anything you see may try to eat you, and Meghan is the daughter of the summer faery king. Now she will journey into the depths of Faery to face an unknown enemy . . . and beg the help of a winter prince who might as soon kill her as let her touch his icy heart. The Iron King is the first book in the Iron Fey series.
[from
Goodreads
]
Rating: 4 out of 5 boxes
Target Audience: Lovers of faery lore, faery newbies
High point: Integration of faery myths
Low point: Meghan's choice of love interest
Reader maturity: 13+
The Iron King
romped delightfully through the world of faery. Though more of an admirer of vampires and werewolves, the faery folk in
The Iron King
did not disappoint. Meghan Chase's adventures as she seeks out her stolen brother compel the reader and stretch the imagination.
Unlike the lore promoted by greeting card companies, the mythological creatures of
The Iron King
are harsh and selfish. A simple "thank you" is dangerous both in and out of the Seelie Court. Viewing age-old folk tales and a little bit of Shakespeare in a new way through the eyes of Ms. Kagawa was a fascinating experience. I ran with Meghan through the woods and struggled as she did regarding her loyalties.
Meghan's character may seem a little naive, but it's a refreshing change from the more world-wise characters that abound. It takes her a while to "get it" in the book, and it works well with her personality. The build-up of the relationships between the characters was skillfully done, especially between Puck and Ash, and I was almost to the end before I predicted the outcome.
The one thing that disappointed me was Meghan's choice of love interest, but that's purely personal and has nothing to do with the quality of the writing or plot. Both of the male leads were attractive and unique, one the prankster and one intriguingly closed off. I just wish she had ended up with the one she didn't pick...
Title: The Iron King
Author: Julie Kagawa
Genre: 2010
Year: Teen Fiction, Fantasy
Book Source: Won from Flipping Pages for All Ages