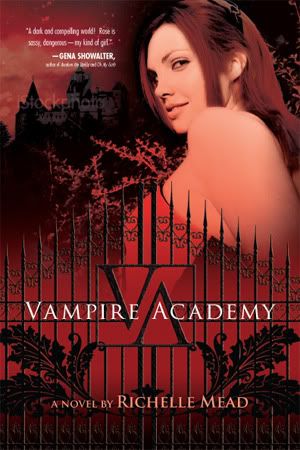 St. Vladimir's Academy isn't just any boarding school—it's a hidden place where vampires are educated in the ways of magic and half-human teens train to protect them. Rose Hathaway is a Dhampir, a bodyguard for her best friend Lissa, a Moroi Vampire Princess. They've been on the run, but now they're being dragged back to St. Vladimir's—the very place where they're most in danger...
Rose and Lissa become enmeshed in forbidden romance, the Academy's ruthless social scene, and unspeakable nighttime rituals. But they must be careful lest the Strigoi—the world's fiercest and most dangerous vampires—make Lissa one of them forever.
[from
Goodreads
]
Rating: 4 out of 5 boxes
Target Audience: Teens who love good vampire drama
High point: The complexity of Rose and Lissa's world
Low point: Needless mature content
Reader maturity: 17+
The first few pages of
Vampire Academy
didn't impress me, but once the story moved along to the actual vampire academy...wow. I was hooked. I'm not a huge vampire novel fan because they tend to veer towards the campy or stretch just how much I can accept as "realistic" paranormal fiction, but Vampire Academy doesn't even stop to trifle with those issues. It hits all the high points of vampire mythology, mixes in a few new quirks to make the story unique and then plunges right into the meaty part of the story.
The vampire academy seems like a really cool place to go to school, if you're a Moroi or dhampir, that is. Rose is an amusing and realistic main character. I'm not sure I'd really want to be friends with her--she's volatile--but I'd definitely want her gunning for me in a fight. Her best friend, Lissa, came across as pretty wimpy to me, letting Rose handle everything, but Rose's acceptance of this is sufficiently and believably explained as part of her training. Rose handles everything with a "that's the way it is" attitude. Normally, this would seem like a sketchy plot hole, but in
Vampire Academy
it's not. It's a core aspect of Rose's personality.
Then there's Dimitri. Let's just say, he kicks every other vampire love interest out of the park. He's a terrific mentor and exercises a great amount of self-control, although the mistakes he makes seem a little out of character...but then, he's always younger than I imagine him. All of the secondary characters are good additions too, with none of them seeming extraneous or flat.
Vampire Academy
was a set-up book, but until you read the sequels, you won't realize it. Its storyline pales in comparison to the later books, but it's a fine piece of work in its own right. I bought a
Vampire Academy
boxed set and was really glad not to be left hanging after book one.
Title: Vampire Academy
Author: Richelle Mead
Genre: Young Adult Horror and Suspense
Year: 2007
Book Source: Purchased