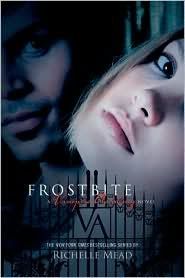 Rose loves Dimitri, Dimitri might love Tasha, and Mason would die to be with Rose... It's winter break at St. Vladimir's, but Rose is feeling anything but festive. A massive Strigoi attack has put the school on high alert, and now the Academy's crawling with Guardians--including Rose's hard-hitting mother, Janine Hathaway. And if hand-to-hand combat with her mom wasn't bad enough, Rose's tutor Dimitri has his eye on someone else, her friend Mason's got a huge crush on her, and Rose keeps getting stuck in Lissa's head while she's making out with her boyfriend, Christian! The Strigoi are closing in, and the Academy's not taking any risks....This year, St. Vlad's annual holiday ski trip is mandatory.
But the glittering winter landscape and the posh Idaho resort only create the illusion of safety. When three friends run away in an offensive move against the deadly Strigoi, Rose must join forces with Christian to rescue them. But heroism rarely comes without a price...
[from
Goodreads
]
Rating: 4 out of 5 boxes
Target Audience: Teens who love good vampire drama
High point: The complex relationship between Dimitri and Rose
Low point: Needless mature content
Reader maturity: 17+
Frostbite
was every bit as good as
Vampire Academy
--if not more so--and furthers the story of Rose, Lissa, Dimitri and Christian.
Like
Vampire Academy
, Ms. Mead updates the vampire myth without straying from it entirely, merely updating it to personalize it. The Strigoi--the evil vampires--play a bigger role in Frostbite, threatening the school. Upset over her forbidden crush, Rose is dealing with Mason's crush on her.
I praised the development of Rose in
Vampire Academy
and still think she's a great main character, but some things she did in
Frostbite
don't ring true to their maturity we saw toward the end of the first installment. Her reactions and decisions are more abrupt and foolhardy than what she had grown into in
Vampire Academy
, but her questions regarding the right thing to do and her loyalty to Lissa are as solid as ever. A new character is introduced in
Frostbite
; he's a great addition to the cast, amusing and mysterious at the same time. He had me guessing until the end.
The conflict in
Frostbite
is much more dangerous than in
Vampire Academy
. I was on the edge of my seat, wondering what was going to happen and who was going to make it out alive. After the story closed, I was relieved to have Volume 3 near at hand.
Title: Frostbite
Author: Richelle Mead
Genre: Young Adult Horror and Suspense
Year: 2008
Book Source: Purchased