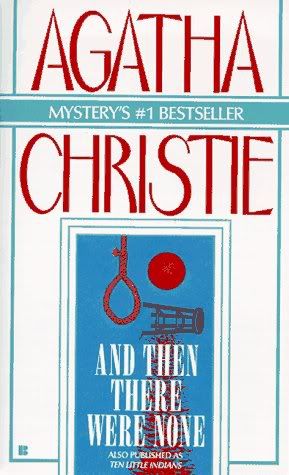 First, there were ten - a curious assortment of strangers summoned as weekend guests to a private island off the coast of Devon. Their host, an eccentric millionaire unknown to all of them, is nowhere to be found. All that the guests have in common is a wicked past they're unwilling to reveal - and a secret that will seal their fate. For each has been marked for murder, and one by one they begin to fall prey to an unseen hand. As the only people on the island, unable to leave and unable to call for help, they know that the only possible suspects are among their number. And only the dead are above suspicion.
[from
Goodreads
]
Rating: 4 out of 5 boxes
Target Audience: Mystery solvers
High point: The mystery
Low point: A few flat characters
Reader maturity: 13+
Favorite quotes:
"
Ten little boys went out to dine;
One choked his little self and then there were nine.
Nine little boys sat up very late;
One overslept himself and then there were eight.
Eight little boys traveling in Devon;
One said he'd stay there and then there were seven.
Seven little boys chopping up sticks;
One chopped himself in halves and then there were six.
Six little boys playing with a hive;
A bumblebee stung one and then there were five.
Five little boys going in for law;
One got into Chancery and then there were four.
Four little boys going out to sea;
A red herring swallowed one and then there were three.
Three little boys walking in the zoo;
A big bear hugged one and then there were two.
Two little boys sitting in the sun;
One got frizzled up and then there was one.
One little boy left all alone;
He went out and hanged himself and then there were none."
In this classic and timeless mystery, Agatha Christie weaves a tale of lies, deceit and secrecy. Based on a poem, the story unfolds as the guests at an unfamiliar mansion go missing...one by one.
And Then There Were None
kept me guessing until the very end. I read it three or four times over the years before I can finally remember who did it; Ms. Christie is
that
good at hiding the clues. The reader knows more than the characters at times, being able to see things from different perspectives, but the ending is always a surprise. Unlike some of Christie's other works, where a detective and some collection of Brits solve a murder, in
And Then There Were None
, the guests on the island are unable to leave and must attempt to solve the mystery themselves, while revealing their most unsavory pasts.
And Then There Were None
was popular when first published, and it's still popular today, for good reason. It's a complex tale to keep adults guessing, but it's not too frustrating for younger minds to keep up. There is some of what would be considered racist language today (the novel was also titled
Ten Little Indians
after a nursery rhyme posted in each bedroom of the mansion). However, other than the poem, it's not prevalent, and the occurrences are not mean-spirited; keep in mind that the book was published in 1939, under very different linguistic circumstances.
Title: And Then There Were None
Author: Agatha Christie
Genre: Fiction, Mystery
Year: 1939
Book Source: Purchased