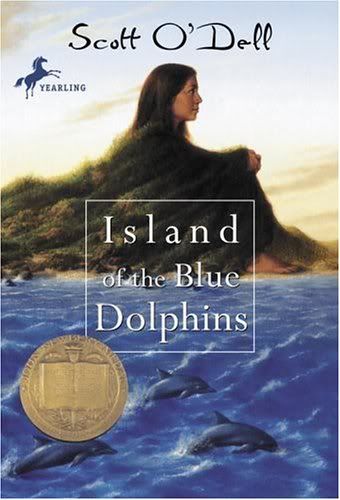 In the Pacific there is an island that looks like a big fish sunning itself in the sea. Around it, blue dolphins swim, otters play, and sea elephants and sea birds abound. Once, Indians also lived on the island. And when they left and sailed to the east, one young girl was left behind.
This is the story of Karana, the Indian girl who lived alone for years on the Island of the Blue Dolphins. Year after year, she watched one season pass into another and waited for a ship to take her away. But while she waited, she kept herself alive by building a shelter, making weapons, finding food, and fighting her enemies, the wild dogs. It is not only an unusual adventure of survival, but also a tale of natural beauty and personal discovery.
[from
Goodreads
]
Rating: 5 out of 5 boxes
Target Audience: MG readers
High point: Karana and her dog
Low point: The middle of the book is a little slow for younger readers
Reader maturity: 8+
Favorite quotes:
"
Below me Rontu was running along the cliffs barking at the screaming gulls.P-elicans were chattering as they finished the blue water.But suddenly I thought of Tutok, the island seemed very quiet.
"
"They were black eyed like a lizard's and very large and, the eyes of a lizard, could sometimes look sleepy."
Island of the Blue Dolphins
follows Karana, an Indian girl accidentally left behind on her home island by everyone she ever knew. She's resilient and strong, building a safe home for herself and training a wild dog as a companion. This is one of those books that stays with the reader forever and can be enjoyed time and time again.
It's hard to float a story on the actions of one person (and her dog), but Scott O'Dell manages it, keeping the reader invested in Karana's fate through storm and sickness. She's a very thoughtful character, as well as intelligent. Her cleverness keeps her alive on the island, as she hides from hunters and seeks refuge from hurricanes.
We're invited into her deep thoughts, about life and family and her struggles to find the courage to keep going. Her scarce human interactions, once finished, leave her lonelier than ever, but she remains calm and determined.
Island of the Blue Dolphins
is a fabulous book for children up through young adults. Younger readers will enjoy Karana's adventures on the island, and older readers will see the world in a slightly different way.
Title: Island of the Blue Dolphins
Author: Scott O'Dell
Genre: Children's Fiction & Literature
Year: 1960
Book Source: Purchased