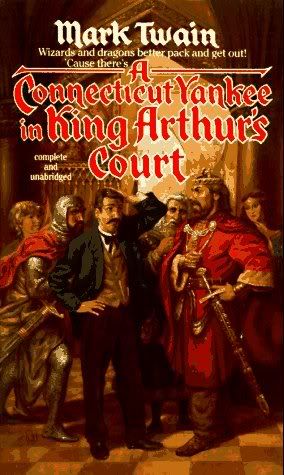 Closest Book:
A Connecticut Yankee in King Arthur's Court

Author: Mark Twain
Page 56, sentence 5:
"

All mines were royal property, and there were a good many of them.

They had formerly been worked as savages always work mines--holes grubbed in the earth and the minerals brought up in sacks of hide by hand, at the rate of a ton a day; but I had begun to put the mining on a scientific basis as early as I could."

Rules:
* Grab the book nearest you. Right now.
* Turn to page 56.
* Find the fifth sentence.
* Post that sentence (plus one or two others if you like) along with these instructions on your blog or (if you do not have your own blog) in the comments section of Storytime with Tonya and Friends.
*Post a link along with your post back to Storytime with Tonya and Friends.
* Don't dig for your favorite book, the coolest, the most intellectual. Use the CLOSEST.