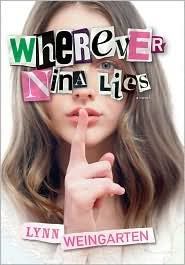 Nina was beautiful, artistic, wild . . . and adored by her younger sister, Ellie. But one day, without any warning, Nina disappeared.

Two years later, Ellie can't stop thinking about her sister. Although everyone else has given up hope that Nina will return, Elile just knows her sister is out there, somewhere. If only Ellie had a clue where to look.


And then she gets one, in the form of a mysterious drawing tucked into the pages of a book. Determined to find her sister, Ellie takes off on a crazy, sexy, cross-country road trip with the only person who believes she's got a chance -- her hot, adventurous new crush.


Along the way, Ellie finds a few things she wasn't planning on. Like love. Mysteries. Lies. And something far ore shocking -- the truth.
[from
Goodreads
]
Rating: 4.5 out of 5 boxes
Target Audience: Mystery solvers, anyone looking for adventure
High point: Sean...and his secrets
Low point: Ellie's best friend
Reader maturity: 13+
I'm so glad I won this book! Though it's received glowing reviews, I have yet to find one that fully does it justice. I'm going to try, but really, you just need to pick this up for yourself.
Ellie feels lost when her big sister Nina disappears and would do almost anything to get her back. So when a clue appears and a guy offers to take her on a roadtrip, she jumps at the chance. I found myself thinking in the back of my mind that it was a stupid idea, to take off with a stranger, but I was so into Ellie's distress, it didn't really seem like such a bad idea--which is pretty much how Ellie validates the decision.
Things seem to be going great. Sean's a great partner, really in love with Ellie; they meet some interesting people along the way and then...things fall apart. But you'll have to read the book to find out what happens.
I've never had a sister, but Ms. Weingarten made me feel just like Ellie, missing Nina and wishing I could've changed what I'd done before she left. I had to shake myself out of it several times. Like Ellie, I fell hard for Sean, inwardly drooling over him and then being frustrated when his demeanor changed. And the climax? Well, aside from her one very stupid decision at the beginning, Ellie's a smart girl; she plays this one right.
The only character I didn't like was her best friend, Amanda. She seemed cool at first, but then got sort of weird and distant and then angry for what seemed like no reason at all. She redeems herself though.
Wherever Nina Lies
doesn't take the reader for a thrill ride or an emotional roller coaster, but it's an interesting look at how love blinds us and the lengths that family will go to get each other back. It's scary, it's sweet and most of all, it's a great book.
Title: Wherever Nina Lies
Author: Lynn Weingarten
Genre: Teen Fiction, Mysteries & Thrillers
Year: 2010
Book Source: Won from Frenetic Reader