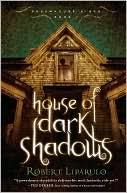 When the Kings move from L.A. to a secluded small town, fifteen-year-old Xander is beyond disappointed. He and his friends loved to create amateur films . . . but the tiny town of Pinedale is the last place a movie buff and future filmmaker wants to land.

But he, David, and Toria are captivated by the many rooms in the old Victorian fixer-upper they moved into--as well as the heavy woods surrounding the house.

They soon discover there's something odd about the house. Sounds come from the wrong directions. Prints of giant, bare feet appear in the dust. And when David tries to hide in the linen closet, he winds up in locker 119 at his new school.

Then the really weird stuff kicks in: they find a hidden hallway with portals leading off to far-off places--in long-ago times. Xander is starting to wonder if this kind of travel is a teen's dream come true . . . or his worst nightmare.
[from
Goodreads
]
Rating: 4 out of 5 boxes
Target Audience: Male readers, wannabe time travelers
High point: Xander and David
Low point: A little predictable
Reader maturity: 10+
While browsing in Half Price Books one day, I stumbled upon a two-books-in-one binding of
House of Dark Shadows
and
Watcher in the Woods
by Robert Liparulo. I passed them by on that occasion, to give myself time to look up ratings and reviews for the books before buying. The next week I went back for the book, and I'm really glad I did.
The Dreamhouse Kings series is an engaging read, centering mostly on brothers Xander and David King, as well as the rest of the King family. When they move to a new home, they discover it has secrets as dark as its past, and they must save themselves from the evils inside.
The premise might sound like a bad B-movie, but don't be fooled:
House of Dark Shadows
is great entertainment. Personally, I tend to avoid books with male protagonists, but Mr. Liparulo tells the story so skillfully that I forgot I was semi-inside the head of a guy. When the guy-jokes did arise, I was amused and able to remain engaged in what was happening.
Xander seems to be a pretty reasonable 15 year old boy, and his relationship with his 12 year old brother David is adorable, in that way only non-teenagers can look back on and see. The family starts out as a cohesive and loving group, but as the novel progresses, they slowly fall apart. It's all very realistic.
The secrets of the house are slowly revealed with the perfect amount of flashbacks and foreshadowing--just enough to make you wonder, but not enough to ruin what's coming. There were lots of things that go bump in the night, but it manages to be a creative twist on the old boogeyman classic, not to mention that there's a little sci-fi thrown into the mix.
This would be a great read for a preteen or teenage boy, as well as anyone else who likes adventure/sci-fi/paranormal fiction. I enjoyed
House of Dark Shadows
, and I'm glad
Watcher in the Woods
was included in my purchase.
Title: House of Dark Shadows
Author: Robert Liparulo
Genre:
Fiction & Literature
Year: 2008
Book Source: Purchased