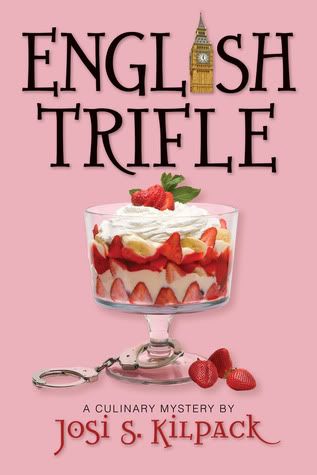 Things to Do in England:
Visit Westminster Abbey, the Tower of London, and the London Zoo
Take the Jack the Ripper tour creepy!
Sample authentic English scones and crumpets
Discover a dead body
What begins as a holiday trip for amateur sleuth and cooking aficionado Sadie Hoffmiller and her daughter, Breanna, turns into a bizarre mystery when they discover a dead body in the sitting room of an English manor. Breanna's boyfriend, Liam, is heir to both the family title and the family estate of Southgate, where everyone seems to have a secret . . . or two. When the body in the sitting room disappears, Sadie and Breanna are stranded at the estate until the police can clear them to leave. With their departure delayed, they might as well solve the murder. Armed with a jogging whistle, her personal recipe collection, and an unfailing sense of American justice, Sadie begins her own investigation to find the killer. But as Sadie uncovers layer after layer of misdirection, secrets, and outright lies, she wonders if anyone is telling the truth or if the case is really as hopeless as it appears to be. Take a missing family history, toss in a secret romance, mix with a mysterious murder, and this is one vacation Sadie will never forget.
[from
Goodreads
]
Rating: 3 out of 5 boxes
Target Audience: Mystery solvers
High point: The whodunnit
Low point: Too much backstory
Reader maturity: 13+
I dove into
English Trifle
expecting an Agatha Christie-type murder mystery in the vein of Miss Marple. In a way I was right, the novel is set in England and thrusts the reader into the awkward (for an American) world of butlers and maids. On the other hand, the primary character, Sadie Hoffmiller, is decidedly less of a detective but no less entertaining.
English Trifle
took a few chapters to draw me in, but once I was hooked, I was racing to discover whodunnit before Sadie. I wish the novel had included less backstory because Sadie's out-of-place reminiscing about events that must have occurred in
Lemon Tart
(the first in the series) threw me out of the action time and time again. Sadie also recalls bits of random and only sometimes related information. I found that character trait annoying and distracting.
Character quirks aside, Ms. Kilpack knows how to write a good mother-daughter relationship. The college-age daughter was pretty moody, waffling between helpful to being in love to being completely standoffish to her mother. I can relate. That's one of the best descriptions of a mother-daughter relationship I've ever read.
English Trifle
is definitely a novel geared toward a more mature crowd (it's clean, but it's not YA) and Sadie's daughter Breanne brings a little bit of youth that keeps the novel from coming across as stodgy.
I was surprised by the ending, having only figured out the culprit a few pages before Sadie. The solution isn't a stretch, and the author does a terrific job of giving the relevant information to solve the puzzle without giving away too much too early.
As mentioned, this is a clean novel geared toward a more mature crowd. Though some YA readers may enjoy it, they would likely find the pacing slow and the exposition slower. It's not boring, by any means, but it doesn't contain page-turning action sequences or dark and forbidden romances.
English Trifle
is for readers who want a good, solid mystery novel to pass the time.
Title: English Trifle
Author: Josi S. Kilpack
Genre: Mystery
Year: 2009
Book Source: Received for review from
Pump Up Your Book Promotion; no other compensation was received.