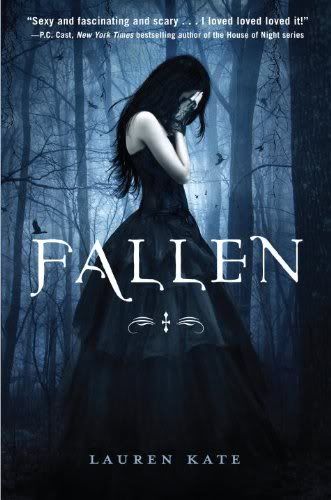 There's something achingly familiar about Daniel Grigori.

Mysterious and aloof, he captures Luce Price's attention from the moment she sees him on her first day at the Sword & Cross boarding school in sultry Savannah, Georgia. He's the one bright spot in a place where cell phones are forbidden, the other students are all screw-ups, and security cameras watch every move.

Even though Daniel wants nothing to do with Luce–and goes out of his way to make that very clear–she can't let it go. Drawn to him like a moth to a flame, she has to find out what Daniel is so desperate to keep secret . . . even if it kills her.
[from
Goodreads
]
Rating: 4.5 out of 5 boxes
Target Audience: Teen girls, 20-somethings, anyone with a hankering for clean paranormal romance
High point: The Sword & Cross boarding school inmates
Low point: Luce's initial relationship with Daniel
Reader maturity: 13+
Fallen
follows the legally crazy Luce Price as she chases after the mysterious Daniel Grigori, a fellow student in reform school.
I went into
Fallen
with extremely high expectations. I couldn't help it! The cover was gorgeous, and the plot sounded like a good read. Though I can understand why so many of the reviews I read labeled
Fallen
as hit or miss, I wasn't disappointed.
I saw where the other bloggers were coming from in their hot/cold reviews. I didn't really see the connection between Daniel and Luce or understand why she kept chasing him when he kept telling her to stay away. It came off as desperate rather than romantic. Things picked up between them about halfway through the book. If the whole book had been written that way,
Fallen
would've had more hits than misses.
Romantic weirdness aside, I really enjoyed
Fallen
. It has the perfect amount of meat--it's not emotionally heavy, but it's not fluff either. The crazy reform school inmates are a little bit scary (like they're supposed to be), but they're also shown as being people underneath all the psychosis and medication. Long before Luce, I figured out what was going on so
Fallen
felt a little like
The Dark Divine
in that there were so many mini-flashbacks that it became distracting. Overall though,
Fallen
is well-written. The reader identifies with Luce, and she's a refreshing shot of light in the darkness of the Sword & Cross boarding school. She's emotional and confused and disheartened and a little bit obsessive, but other than the stalkerish bent of her attraction to Daniel, she doesn't come off as whiny or weak or pitiful. She's not really a strong character--she's so uncertain that she gets tossed about by more dominant personalities--but she's identifiable and a good character to follow. Due to her situation, she's a little girl lost, rather than simply being an immature teen.
During the second half of the book, I fell for Daniel, hard. I still don't understand why he does the things he does (or doesn't do, in certain cases), but it's a really neat romance, a little different than what I've read lately, especially among the paranormals. All of the supporting cast are neat too; the only one that felt flaky to me...I don't want to give away the ending, but maybe she was supposed to be superficial.
All in all, I recommend
Fallen
. It's a quick, satisfying read for teens of all ages and young-adults-at-heart who skulk through the YA section in the bookstore.
Title: Fallen
Author: Lauren Kate
Genre: Teen Fiction--Horror & Suspense
Year: 2009
Book Source: Won from sheknows.com