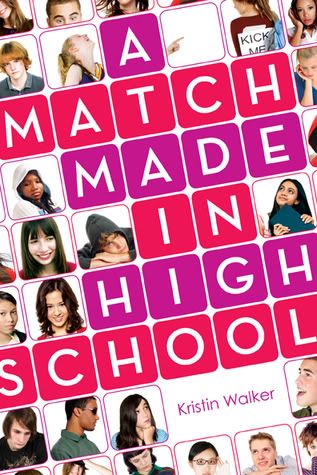 When the principal announces that every senior must participate in a mandatory year-long Marriage Education program, Fiona Sheehan believes that her life can't get any worse. Then she marries her "husband": Jerky jock Todd, whose cheerleader girlfriend, Amanda, has had it in for Fiona since day one of second grade. Even worse? Amanda is paired with Fiona's long-term crush, Gabe. At least Fiona is doing better than her best friend, Marcie, who is paired up with the very quiet, very mysterious Johnny Mercer. Pranks, fights, misunderstandings, and reconciliations ensue in an almost Shakespearean comedy of errors about mistaken first impressions, convoluted coupling, and hidden crushes.
[from
Goodreads
]
Rating: 3 out of 5 boxes
Target Audience: Younger YA readers, contemporary fiction fans
High point: The just desserts
Low point: The youthful drama
Reader maturity: 13+
I wasn't really sure what to expect with
A Match Made in High School
. I knew I really wanted to read it for some reason; it just seemed happy and...pink. The swag that came along with the ARC made me swoon. Cute little ring? Check! Bookmark? Check! Notepad disguised as a matchbook? Check and check!
Admittedly, I was a little disappointed. I'm starting to figure out that real-world type YA fiction is more often than not a miss for me, but that's not the fault of AMMIHS. Kristin Walker is a funny author; the writing had me giggling aloud several times. I liked the main character Fiona, but there's a point in the novel where she comes to realize that she's a very harsh and horrible person. I didn't really get it. I thought that, yeah, she'd made some mistakes, but the people upset with her were just as bad. They sat up on their high horses looking down while she tried to get them back. I would've moved on. That might be because I've learned a few things since high school.
Fiona's "husband" seemed like he was going to be such a tool, but as the layers peeled back, he was revealed to be a much more interesting person. His girlfriend, the cheerleader, also turns out to be nicer than she first appeared. [SPOILER] And then, most importantly, the token jerk-boy gets his in the end. Ah, fiction, I love thee. [END SPOILER]
There wasn't too much swearing and the high school kids seemed like high school kids, not an author trying too hard to be hip by using weird lingo. Like I said, Kristin Walker is
funny
.
A Match Made in High School
isn't anything I'll probably be reading again, but it was fun while it lasted.
Title: A Match Made in High School
Author: Kristin Walker
Genre: Teen Fiction- - Contemporary
Year: 2010
Book Source: Won an ARC from The Book Pixie