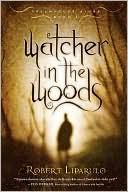 It's not just the house that's keeping secrets.

Pretending everything's all right is harder than it sounds. But the Kings know that even if they told the truth about the bizarre things happening in their house, no one would believe them. They're hyper-focused on rescuing their lost family member before anyone finds out what's going on.

But when a stranger shows up to take their house, their options start dwindling fast. Why would he be so interested in a run-down old place? And what secret is he hiding--just as he hides the scars that crisscross his body?

The mystery gets stranger with each passing day. Will the Kings be able to find a way to harness the house's secrets and discover who is watching their every move before another gets snatched into an unknown world?
[from
Goodreads
]
Rating: 3 out of 5 boxes
Target Audience: Male readers, wannabe time travelers
High point: The crabby old man
Low point: The sluggish pace
Reader maturity: 10+
Watcher in the Woods
is the 2nd book in the Dreamhouse Kings series. I was pretty impressed with the 1st book,
House of Dark Shadows
, but
Watcher in the Woods
failed to capture my attention as fully.
Watcher in the Woods
was a slow read. While there was some action and mystery, most of the novel dragged in plot, if not in writing. At the end of the book, I hardly felt closer to discovering the secrets of the house than I did at the end of book one. There were a few interesting subplots--the crabby old man who breaks out of the nursing home--but the Kings didn't seem to do much but argue until the very end, when things finally got interesting.
The writing style and quality are about the same as
House of Dark Shadows
(so...pretty good), and I didn't mind being in Xander's head. Though frustrated with the slowness of the storyline, I did enjoy what progress was made by the Kings. As with the 1st book in the series, I would recommend
Watcher in the Woods
to sci-fi/paranormal/mystery readers, especially males.
Title: Watcher in the Woods
Author: Robert Liparulo
Genre: Fiction & Literature
Year: 2008
Book Source: Purchased