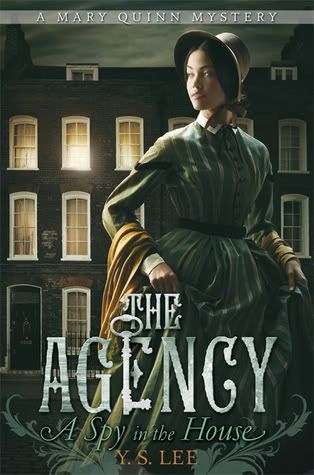 Steeped in Victorian atmosphere and intrigue, this diverting mystery trails a feisty heroine as she takes on a precarious secret assignment.

Rescued from the gallows in 1850s London, young orphan (and thief) Mary Quinn is surprised to be offered a singular education, instruction in fine manners — and an unusual vocation. Miss Scrimshaw's Academy for Girls is a cover for an all-female investigative unit called The Agency, and at seventeen, Mary is about to put her training to the test. Assuming the guise of a lady's companion, she must infiltrate a rich merchant's home in hopes of tracing his missing cargo ships. But the household is full of dangerous deceptions, and there is no one to trust — or is there? Packed with action and suspense, banter and romance, and evoking the gritty backstreets of Victorian London, this breezy mystery debuts a daring young detective who lives by her wits while uncovering secrets — including those of her own past.
[from
Goodreads
]
Rating: 4.5 out of 5 boxes
Target Audience: Former Nancy Drew kid detectives
High point: Mary Quinn
Low point: Some of the supporting cast
Reader maturity: 13+
The Agency
:
A Spy in the House
was a fun romp through Victorian London with a headstrong female detective and her equally headstrong (and incredibly attractive) male partner. Mary Quinn is who you'd get if you threw a modern-day Nancy Drew into a Charles Dickens' story.
A Spy in the House
is light-hearted enough for younger teens, deep enough to be satisfying and romantic enough for the more-grown-up in the audience, not to mention that it's all (YA) ages appropriate.
Mary Quinn, the main character and reformed pickpocket, hides in plain sight as a lady's companion, constantly seeking trouble and accidentally stumbling into wardrobes with strange men. She's smart, resourceful and the kind of woman that Victorian women ought to have been, if they'd been given the chance. She's modern enough to appeal to today's readers, but enough of the setting and mannerisms in
A Spy in the House
are distinctly Victorian so that the reader experiences the historical flair without drowning in anything too textbook-like.
The romantic lead is perfect (if a bit too forward to be Victorian); he's stubborn, hard-to-get, and he might be harboring some secrets of his own...but he's not controlling, chauvinistic or
too
perfect, making him even more perfect for Mary.
Some of the supporting cast were a little two-dimensional, especially in contrast with Mary, James and Angelica, but overall the novel was well-written, well-paced and well-thought out. Every detail was accounted for, and the novel never seemed to drag or wade through unnecessary scenes. The ending was a disappointment only because it means I have to wait for the sequel.
Title: The Agency: A Spy in the House
Author: Y. S. Lee
Genre: Teen Fiction - Mysteries & Thrillers
Year: 2010
Book Source: Won from Book Love: Teen