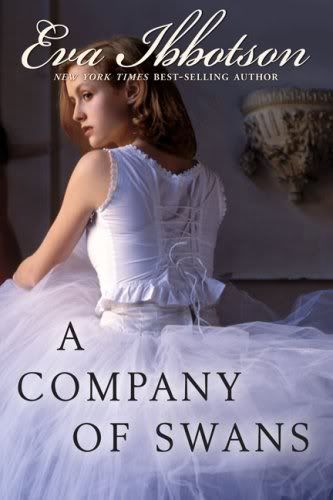 For nineteen-year-old Harriet Morton, life in 1912 Cambridge is as dry and dull as a biscuit. Her stuffy father and her opressive aunt Louisa allow her only one outlet: ballet. When a Russian ballet master comes to class searching for dancers to fill the corps of his ballet company before their South American tour, Harriet's world changes. Defying her father's wishes and narrowly escaping the clutches of the man who wishes to marry her, Harriet sneaks off to join the ballet on their journey to the Amazon. There, in the wild, lush jungle, they perform Swan Lake in grand opera houses for the wealthy and culture-deprived rubber barons, and Harriet meets Rom Verney, the handsome and mysterious British exile who owns the most ornate opera house. Utterly enchanted by both the exotic surroundings and by Rom's affections, Harriet is swept away by her new life, completely unaware that her father and would-be fiancé have begun to track her down. . . .
[from
Goodreads
]
Rating: 4.5 out of 5 boxes
Target Audience: Teens, clean romance readers
High point: The fairytale
Low point: The would-be fiancé
Reader maturity: 13+
A Company of Swans
is another historical YA romance written in the typical Eva Ibbotson style and, like her other novels, it does not disappoint.
In
A Company of Swans
, we travel with Harriet Morton, a runaway ballerina, as she crosses the Atlantic to tour with a company in the Amazon. There she finds ties to her homeland and something unexpected--love. There's the usual dreamy setting and floaty descriptions and quirky-but-lovable main character...but something here is different. This time, someone's trying to separate the lovebirds, a twist that I liked as a change of pace.
I was fascinated by the setting of the Amazon--the descriptions are amazing; I felt like I was really in the jungle or a magic garden. The other setting is England, which I have always been enthralled by, so overall, as far as my literary passport is concerned,
A Company of Swans
gets 2 great big thumbs up.
The love interest for Harriet is a little different than the usual perfect (albeit often slightly older) man. He's a self-professed...rogue, I guess you could say. He's good-hearted but searched for love in a lot of places.
Harriet's best friend, Marie-Claude, steals the show. Whereas Harriet is oppressed and frightened (but still likable), Marie-Claude is a friendly, open soul, infusing life into both Harriet and the novel. She's the bustling mother figure in ballerina form.
As usual, I thoroughly enjoyed Eva Ibbotson's work and highly recommend it.
Title: A Company of Swans
Author: Eva Ibbotson
Genre: Teen Fiction - Romance & Friendship
Year: 1985
Book Source: Purchased