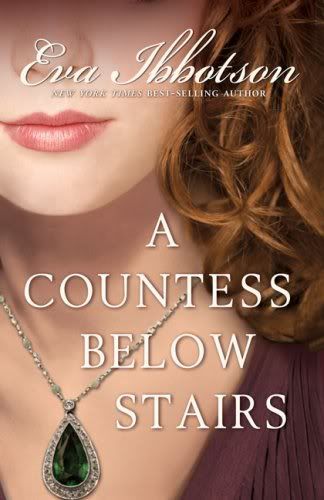 After the Russian revolution turns her world topsy-turvy, Anna, a young Russian countess, has no choice but to flee to England. Penniless, Anna hides her aristocratic background and takes a job as servant in the household of the esteemed Westerholme family, armed only with an outdated housekeeping manual and sheer determination. Desperate to keep her past a secret, Anna is nearly overwhelmed by her new duties—not to mention her instant attraction to Rupert, the handsome Earl of Westerholme. To make matters worse, Rupert appears to be falling for her as well. As their attraction grows stronger, Anna finds it more and more difficult to keep her most dearly held secrets from unraveling. And then there's the small matter of Rupert's beautiful and nasty fiancée...
[from
Goodreads
]
Rating: 4.5 out of 5 boxes
Target Audience: Teens, clean romance readers
High point: The fairytale
Low point: Rupert
Reader maturity: 13+
A Countess Below Stairs
is a dreamy love story about a deposed Russian countess who takes a job as a maid in the household of an English aristocrat. He, of course, falls for her, but there are many obstacles and misunderstandings to be had on the journey.
Love stories like this are predictable; they've been told before, many times, but when a certain author gets hold of one and manages to package it as something fresh and delightful, it can be a lot of fun. That's what Eva Ibbotson did with
A Countess Below Stairs
. I knew, of course, how things would turn out, but I found myself reading as fast as possible or skipping ahead a few pages, just to make sure I was right.
Like Ibbotson's other works,
A Countess Below Stairs
has a fairytale quality, from the storyline to the eternally
good
main character, but it's never sappy or overdone. It's like spending time in a good dream.
Anna, the Russian countess, made me laugh with her intent on curtsying to everyone and her eagerness to please. Rupert, the Earl of Westerholme, was a bit of a nobody until 2/3 of the way through the novel when I discovered he was, in fact, born with a backbone. And, as expected, Rupert's fiancee is an absolute (and comedic) nightmare. To add to the circus, there are a lot of stunned servants and one crazy fake doctor to keep things interesting.
If you enjoy historical novels but prefer them with a contemporary twist (the main character is fairly progressive in terms of her employment and rank), then I highly recommend
A Countess Below Stairs
. It was a lot of fun to read, and I immediately went on to the next Eva Ibbotson book I own.
Title: A Countess Below Stairs
Author: Eva Ibbotson
Genre: Teen Fiction - Romance & Friendship
Year: 1981
Book Source: Purchased