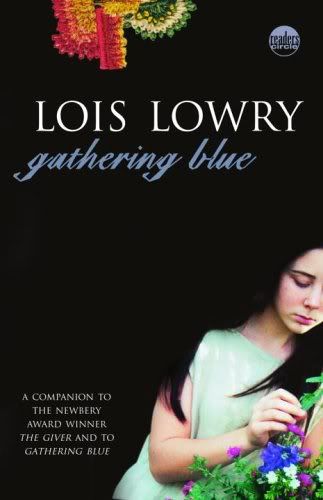 In her strongest work to date, Lois Lowry once again creates a mysterious but plausible future world. It is a society ruled by savagery and deceit that shuns and discards the weak. Left orphaned and physically flawed, young Kira faces a frightening, uncertain future. Blessed with an almost magical talent that keeps her alive, she struggles with ever broadening responsibilities in her quest for truth, discovering things that will change her life forever.

As she did in The Giver, Lowry challenges readers to imagine what our world could become, how people could evolve, and what will be considered valuable. Every reader will be taken by Kira's plight and will long ponder her haunting world and the hope for the future.
[from
Goodreads
]
Rating: 3.5 out of 5 boxes
Target Audience: MG readers, fans of The Giver
High point: The subtle descriptions
Low point: Not as deep as its predecessor
Reader maturity: 8+
Gathering Blue
is the companion novel to Lois Lowry's award-winning novel
The Giver
. Kyra's story occurs several years after Jonas' journey and, though it takes place in the same world, their experiences are vastly different.
Where Jonas' society is high tech and and theoretically progressive, Kyra's is backwards and cruel. Jonas' world purported to be technologically and more socially advanced than other cities, but both Jonas' and Kyra's towns lack ethics and compassion. Kyra is little more than a slave to her government, as Jonas was to his. As in
The Giver
, Ms. Lowry shows only bits and pieces of Kyra's world, allowing the reader to create a personal interpretation.
Lois Lowry explores societal evils through the eyes and mind of a young girl, alone in the world except for two misfit friends. Like
The Giver
, the answers to the problems are never announced; readers are left to mull over the details and motivations and decide for themselves.
Gathering Blue
isn't as intricate or descriptive as
The Giver
, but it has its own place in MG literature. It's a great read for making people think about their actions and their place in the world.
Title: Gathering Blue
Author: Lois Lowry
Genre: Teen Fiction
Year: 2000
Book Source: Purchased