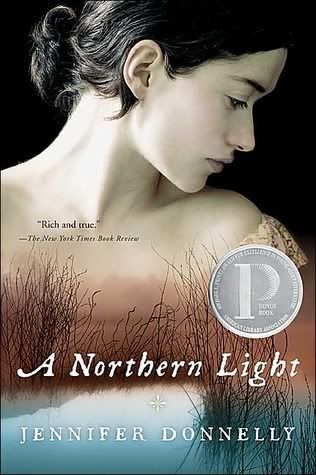 Sixteen-year-old Mattie Gokey has big dreams but little hope of seeing them come true. Desperate for money, she takes a job at the Glenmore, where hotel guest Grace Brown asks her to burn a bundle of secret letters. But when Grace's drowned body is fished from the lake, Mattie discovers the letters reveal the grim truth behind a murder.

Set in 1906 against a backdrop of the murder that inspired Theodore Dreiser's An American Tragedy, this astonishing novel weaves romance, history, and a murder mystery into something moving, real, and wholly original.
[from
Goodreads
]
Rating: 4 out of 5 boxes
Target Audience: Anyone hankering for a real-life novel, historical fiction fans
High point: Mattie's strength and determination
Low point: Choppy sentences
Reader maturity: 13+
A Northern Light
skillfully captures the pains of young adulthood through the eyes of Mattie Gokey, a sixteen-year-old burgeoning writer trying to find her voice in the crowd. Though encouraged by her teacher, she soon falls victim to circumstance and puts her writing and hopes for college aside to care for her family and prepare to marry the handsome Royal. In the end, she must decide if some promises were made to be broken and discover if she is strong enough to follow her dreams.
A Northern Light
was a breath of fresh air amidst all the romantic YA drama and paranormal goings-on of many of today's novels. Mattie, sometimes self-assured, sometimes shy, spends a great deal of time agonizing over the broken promises and broken people but never in a way that depresses the reader. Her choices may seem baffling to a reader today but are likely representative of life in 1906. Mattie is a strong character, even considering her flaws, and when the time comes, she always finds the strength to do what her heart tells her is right, even when her head says otherwise
Based on true events, the letters read by Mattie throughout the novel loosely parallel her own story, adding fullness to the pleasant simplicity of the novel. Her obsession with learning new words is also a reflection of the plot and oftentimes entertaining. The writing style of
A Northern Light
will appeal to younger YA readers, but the story is rich enough to attract and hold the attention of older ages as well.
Title: A Northern Light
Author: Jennifer Donnelly
Genre: Teen Historical Fiction
Year: 2004
Book Source: Purchased