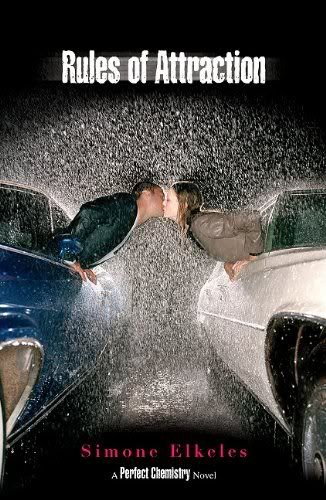 When Carlos Fuentes returns to America after living in Mexico for a year, he doesn't want any part of the life his older brother, Alex, has laid out for him at a high school in Colorado . Carlos likes living his life on the edge and wants to carve his own path—just like Alex did. Then he meets Kiara Westford. She doesn't talk much and is completely intimidated by Carlos' wild ways. As they get to know one another, Carlos assumes Kiara thinks she's too good for him, and refuses to admit that she might be getting to him. But he soon realizes that being himself is exactly what Kiara needs right now.
[from
Goodreads
]
Rating: 3.5 out of 5 boxes
Target Audience: Older teens, YA-romance-reading adults
High point: Carlos
Low point: The swearing, the adult content
Reader maturity: 18+
Several readers have mentioned that
Rules of Attraction
pales in comparison to
Perfect Chemistry
. As I've never read
Perfect Chemistry
, I don't have that to compare it too. I can say for sure that
Rules of Attraction
stood well on its own; everything I needed to know about Alex and Brittany in order to follow Carlos' and Kiara's story was explained.
Carlos' bad attitude bleeds through the pages, immersing me into a world of gangs and turf wars--not so much that it was scary but enough that it took me out of my reading comfort zone. He appears to the reader as a true tool, the same impression he gives Kiara, but as she comes to understand that he's not the jerk he appears to be, the reader does too. Kiara is also enjoyable as a main character. She has "ugly duckling" syndrome, which usually drives me crazy, but her choices to change--or stick up for herself--are always validated.
Though I enjoyed the opposites-attract romance in
Rules of Attraction
, it felt a little rushed, like the book needed a few more chapters for Kiara and Carlos to get to know each other. The quick pace makes the romance seem based more on physical attraction than emotional attraction, even though both characters have a lot to offer each other. In that vein, the book contains quite a bit of swearing in its venture for realism and also some
intense
scenes that are pretty explicit for a YA novel.
Rules of Attraction
is one of those books I'm sort of torn on. I liked it--the writing was good and the characterization was great--but the questionable content was so great in quantity and frequency that I don't feel comfortable recommending it.
Title: Rules of Attraction
Author: Simone Elkeles
Genre: Teen Fiction -- Romance & Friendship
Year: 2010
Book Source: Won from Pure Imagination