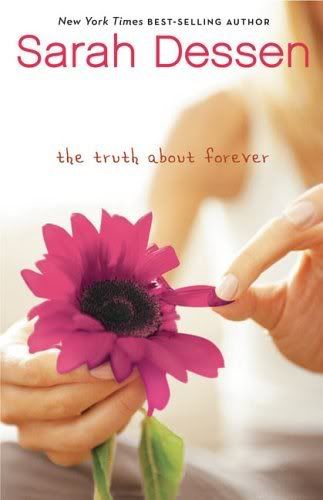 Sixteen-year-old Macy Queen is looking forward to a long, boring summer. Her boyfriend is going away. She's stuck with a dull-as-dishwater job at the library. And she'll spend all of her free time studying for the SATs or grieving silently with her mother over her father's recent unexpected death. But everything changes when Macy is corralled into helping out at one of her mother's open house events, and she meets the chaotic Wish Catering crew. Before long, Macy joins the Wish team. She loves everything about, the work and the people. But the best thing about Wish is Wes—artistic, insightful, and understanding Wes—who gets Macy to look at life in a whole new way, and really start living it.
[from
Goodreads
]
Rating: 4.5 out of 5 boxes
Target Audience: Teens, clean romance readers
High point: The romance and Macy
Low point: Macy's boyfriend
Reader maturity: 13+
The Truth About Forever
is the first book I've read by Sarah Dessen, and I was completely blown away. I don't consider myself much of a fan for contemporary non-paranormal YA, especially romance, but I was wrong (at least in this case). As soon as I finished, I jumped online to see how I could get my hands on another of Ms. Dessen's novels ASAP.
Nothing really out of the ordinary happens in
The Truth About Forever
. It's a book about everyday occurrences and believable coincidences that transform Macy from who she was before and with Jason to who she was without and after Jason. I ached for her as her mother shut her out and demanded perfection. Feeling inadequate is something most readers, young and old, can relate to. Perceived inadequacy does not distinguish between age or origin.
All of the characters in
The Truth About Forever
are so real, like they were ready to reach out of the pages and draw me in for some fun. Wes and Macy have a firmly rooted relationship, initiated mostly by the game of Truth that they play. Everyone around them can see what's going on, but they can't--and it's completely understandable from Macy's perspective.
The supporting cast--the crew of Wish--are wonderful, weaving an intricate background of support and love for Macy when she desperately needs them the most. Macy grows throughout the novel and leaves a lasting impact on those she knows; she, in turn, learns from them as well.
The Truth About Forever
is beautiful, a long book that seems like a short read. It's funny; it's poignant; it's honest.
Title: The Truth About Forever
Author: Sarah Dessen
Genre: Teen Fiction - Romance & Friendship
Year: 2006
Book Source: Purchased