I'm busy catching up on things here in the box, and while I was digging through my bookmark archive, I found these little gems. :-)
I received the prolific blogger award from Alexandra at
Friends & Crocodiles
.
Prolific Blogger Award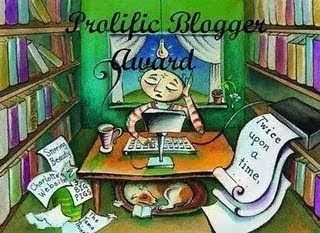 DetweilerMom at
A Room Without Books is Empty
passed on the Bodacious Blogging Book Reviewers Award. Cute!
Bodacious Reviewer Award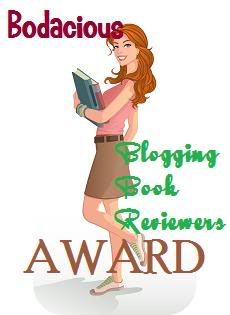 For this award, I must list the last five books that I have read.
The last five books I read are:
Firespell
by Chloe Neill
The Agency
by Y. S. Lee
Moonlight
by Rachel Hawthorne
Lock and Key
by Sarah Dessen
AND
Rules of Attraction
by Simone Elkeles
And last, but certainly not least, Wendy at
The Minding Spot
gave me the Versatile Blogger Award.
Versatile Blogger Award
When you receive this award, you must share seven things about yourself. (I'm going to rely heavily on Wendy for inspiration, here.)
1. I LOVE chocolate milk. And diet Dr Pepper. But not together. (And notice, there is no "." after the "Dr" in Dr Pepper.)
2. I can wink with both eyes! That would be
separately
, for you smart alecks; otherwise it'd be blinking! :-)
3. I love the smell of machine shops, body shops and workshops. Mmm...there's just something comforting to me about the smell of grease and metal. Is that weird?
4. My favorite [current] TV show is...Bones, followed closely by Supernatural. I also like(d) Lost and Chuck and consider myself lightly addicted to home design shows. (
What
?! It's research for settings in my novels. *cough*)
5. I have never bought ice cream from an ice cream truck. Actually, I can count the number of times on one hand that I've actually
seen
an ice cream truck. They're sorta rare around these parts, and I was always warned growing up that the ice cream man would try to kidnap me.
6. I tan like crazy! I spent a year getting all nice and pale and finally got rid of (most of) my tan lines. It's not my best look (sort of vampiric with the dark hair and eyes), but at least I was (mostly) one color. Then I drove back and forth from my hometown to my new town
twice
(about an hour each way) and now I have a deep farmer's tan again, which means, of course, I must spend an afternoon (
one
! just one
really
!)baking the rest of the pale away and trying not to think about the sun damage, wrinkles and skin cancer I'm causing.
7. (
Wendy: I've said it before, and I'll say it again, I'm in love with Dean Winchester of Supernatural
) <--Well, I wouldn't go quite that far 'cause he's fictional, but Dean...is very nice to look upon. And he's definitely my favorite Winchester boy.
Thanks for thinking of me, y'all!