Check in tomorrow for an author guest post by LM Preston and a giveaway of
The Pack
!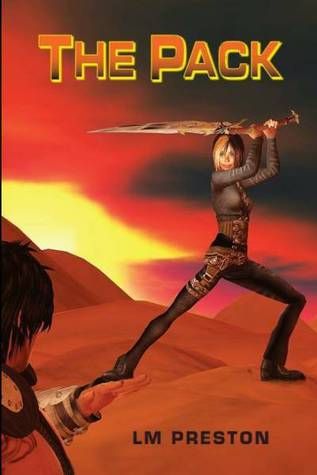 Shamira is considered an outcast by most, but little do they know that Shamira is on a mission. Kids on Mars are disappearing, but Shamira decides to use the criminals most unlikely weapons against them, the very kids of which they have captured. In order to succeed, she is forced to trust another, something she is afraid to do. However, Valens her connection to the underworld of her enemy, proves to be a useful ally. Time is slipping, and so is her control on the power that resides within her. Yet, in order to save her brother's life she is willing to risk it all.
[from
Goodreads
]
Rating: 3.5 out of 5 boxes
Target Audience: Younger teens, Martian maniacs
High point: Shamira
Low point: The writing style
Reader maturity: 10+
In
The Pack
, Earthling expat Shamira faces down her worst nightmares without the support of her family. She meets Valens, a teenage warrior like herself, who convinces her to let down her guard and help him lead a motley crew to find the missing children of Mars.
Honestly,
The Pack
by L. M. Preston wasn't exactly what I expected...but it was
pretty
awesome. It's geared toward an older MG or younger YA crowd with a simplistic and realistically repetitive writing style. (Repetitive usually means boring, but this type of repetition is more representative of how people really think--they don't usually pull 3 different words out of the air that mean "creep." They just say "creep" 3 times.)
Shamira was a great main character--strong, admirable and
hardcore
. I was disappointed that she regained her sight so early in the novel, but I loved that she wouldn't let the doctors change her eye color. She was 100% comfortable with herself. On a day to day basis, she struggled to maintain that attitude, but she never gave in to whining or complaining. She used her "disability" as an asset, even after she regained her sight.
The Pack
had a great cast of characters. Valens, Mitch and Manny all caught my attention time and again. Usually, in a serious, action-flick type novel, there's no room for fun and games, but Ms. Preston caught the essence of youth with certain scenes where the talented teens let loose and have a little fun. Oftentimes in books, teens step up to the plate and act like completely mature adults, but I don't think that's how teenagers would really act in such a situation. The game time was a refreshing addition and showed how the characters became friends so quickly without the situation feeling forced.
It took me a while to get used to the repetitive writing style. At first, I thought it was an error, but it actually set the futuristic life on Mars apart from "real life," both with the descriptions and the dialogue. I also wasn't expecting this to be aimed for a slightly younger audience, but once I realized that, it wasn't an issue. There is some swearing (not too frequent, mostly at the end of the book and comprised of less offensive words) so I would recommend this to its target audience with a light warning.
The Pack
would be great for male or female readers, especially those that are a little old for MG but maybe aren't ready for YA just yet. It's a great sci-fi adventure with a great lesson, exhibited in a fun and understandable way.
Title: The Pack
Author: LM Preston
Genre: Teen Fiction -- Romance & Friendship
Year: 2010
Book Source: Received from publisher for review