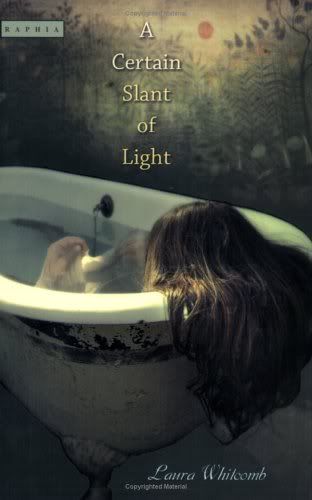 After benignly haunting a series of people for 130 years, Helen meets a teenage boy who can see her and together they unlock the mysteries of their pasts.
[from
Goodreads
]
Rating: 2.5 out of 5 boxes
Target Audience: Ghost (story) hunters
High point: The Quick
Low point: Helen as a modern teen
Reader maturity: 15+
A Certain Slant of Light
really surprised me. I was expecting something along the lines of
Wait Till Helen Comes
or
Time For Andrew
, except in YA form. What I got was...well, not what I expected.
I enjoyed the novel but didn't connect with it on any level other than entertainment. Helen, the main character and a ghost, is of unknown age (but very old), living the life of a teenager. So many things about her life as the teenager didn't jive with her speech and the purported morality of her ancient self. Helen's devotion to the human (males) she attached herself to also made me squirm a little at her single-minded intensity. The love interest, on the other hand, was a believable portrayal of a long-dead ghost in a new body; he made a lot of mistakes but didn't exhibit the stilted behavior of Helen.
The idea behind
A Certain Slant of Light
is brilliant--the interaction between the Quick (the ghosts) and the Living was, pardon the pun, otherworldly, but I was more interested in discovering the secrets of the Quick (especially Helen's secret--which she doesn't know herself) than finding a way for Helen and her fellow ghost to be together. Though only mildly impressed by
A Certain Slant of Light
, Laura Whitcomb has a strong writing style and a great hand for painting pictures with words. I look forward to reading more from her.
Title: A Certain Slant of Light
Author: Laura Whitcomb
Genre: Teen Fiction -- Romance & Friendship
Year: 2005
Book Source: Purchased