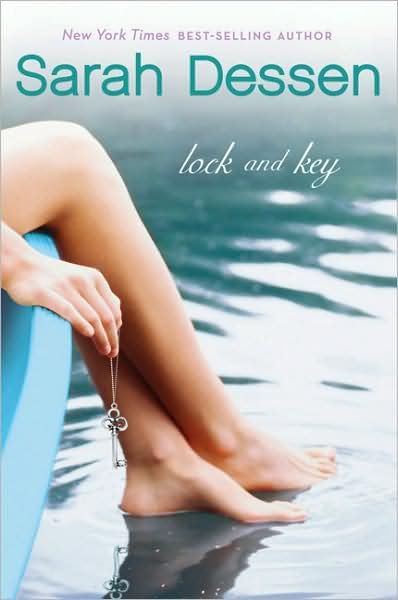 "Ruby, where is your mother?" Ruby knows that the game is up. For the past few months, she's been on her own in the yellow house, managing somehow, knowing that her mother will probably never return. That's how she comes to live with Cora, the sister she hasn't seen in ten years, and Cora's husband Jamie, whose down-to-earth demeanor makes it hard for Ruby to believe he founded the most popular networking Web site around. A luxurious house, fancy private school, a new wardrobe, the promise of college and a future—it's a dream come true. So why is Ruby such a reluctant Cinderella, wary and defensive? And why is Nate, the genial boy next door with some secrets of his own, unable to accept the help that Ruby is just learning to give?
[from
Goodreads
]
Rating: 4 out of 5 boxes
Target Audience: Teens, clean romance readers
High point: Ruby's brother-in-law
Low point: Ruby's old friends
Reader maturity: 13+
Lock and Key
wasn't the mind-blowing experience that
The Truth About Forever
was, but it was emotional and poignant just the same, perhaps even more so. I didn't connect with Ruby the same way I did with the main character from
The Truth About Forever
, but Ruby is still a strong, 3-dimensional powerhouse.
Lock and Key
was painful. It was hard to read about so much heartbreak, but that's the beautiful thing about Sarah Dessen's novels--there's a happy, or at least happi
er
, ending in sight. On the back of the book, the ending of the synopsis says this:
Sometimes, in order to save yourself, you've got to reach out to someone else.
That sums up
Lock and Key
perfectly. Ruby is withdrawn and unattached, and she likes it that way...or so she thinks. Gradually though, she lets her defenses down and finds out that even though that means getting hurt, getting hurt is better than not feeling anything at all.
Ruby's relationship with her older sister, Cora, was picture perfect (I assume, as someone who has no sisters). Cora is angry and withdrawn herself but tries so hard to give Ruby the life she was never able to have. Cora's husband is the heart of this novel--the patient, kind, understanding Jamie. He provides the stability and protection that Ruby never received from anyone else. Without him, there would be no novel and no happy ending. Ruby and her distant-but-patient love interest hit a lot of bumps on the road, but in the end, it's a typical Sarah Dessen ending--predictable but appreciated all the same.
As usual,
Lock and Key
is well-written and appeals to teens and adults of many different ages and backgrounds. It's not groundbreaking, but it isn't
supposed
to be.
Title: Lock and Key
Author: Sarah Dessen
Genre: Teen Fiction - Girls & Young Women
Year: 2008
Book Source: Purchased