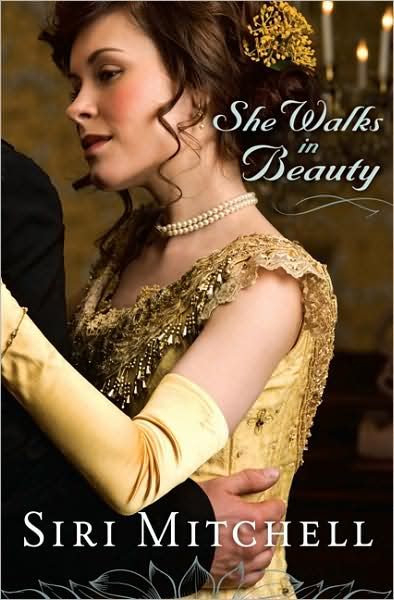 For a young society woman seeking a favorable marriage in the late 1890s, so much depends on her social season debut. Clara Carter has been given one goal: secure the affections of the city's most eligible bachelor. Debuting means plenty of work--there are corsets to be fitted, dances to master, manners to perfect. Her training soon pays off, however, as celebrity's spotlight turns Clara into a society-page darling. Yet Clara wonders if this is the life she really wants, especially when she learns her best friend has also set her sights on Franklin De Vries. When a man appears who seems to love her simply for who she is, and gossip backlash turns ugly, Clara realizes it's not just her heart at stake--the future of her family depends on how she plays the game.
[from
Goodreads
]
Rating: 4 out of 5 boxes
Target Audience: Historical fiction fans
High point: Learning about a society debut
Low point: Confused Clara
Reader maturity: 13+
She Walks in Beauty
is a gorgeous book, seamlessly blending a history lesson about the 1890s with a girl's modern desire for independence and true love.
This is a book to be consumed in one sitting, maybe two. Unfortunately, I had to read it in 15-minute bits and pieces, ruining some of the flow of the novel. Nevertheless, I was impressed by Siri Mitchell's candid and graceful writing style and the captivating Clara. Clara was stubborn and smart, and the only issue I had with her is her refusal to actually make a decision regarding her future. She thought she had...but she hadn't. That, I guess, is part of the point of the novel though, watching Clara grow into a true woman.
The supporting cast was delightful, especially Clara's best friend. I really thought that Lizzie was going to turn out differently and was pleasantly surprised to be proven wrong. If it weren't for her flightiness, Lizzie could have stolen the show. The two main eligible bachelors of the book were fun characters too, making me wish I had my own personal Harry (Franklin's brother).
Aunt is the character that stood out to me the most. She is presented to the reader (and Clara) as a headstrong, bullying matron, intent at marrying Clara off at any cost. That's true...to a point. Eventually Aunt is shown to possess a loving heart, and the transition is natural and one of the best character expositions I have ever read. It was subtle and believable, and nothing about the 180 degree change felt unrealistic.
I'm a bit of a history buff, and I really enjoyed learning about the debut process in detail, from dress-fittings to the family politics involved.
She Walks in Beauty
employs a method of exposition that uses two fake newspaper clippings of the day to show two different views of one event, one from The New York Journal and one from The Tattler. I really enjoyed that small piece of immersion.
She Walks in Beauty
is considered Christian fiction (which I don't usually read), and other than a few paragraphs here and there (maybe 3 or 4 in the whole novel), it was mainstream YA and completely clean, which I appreciated. I hadn't heard of Siri Mitchell before receiving this book for review, but I will be seeking out more of her work.
Title: She Walks in Beauty
Author: Siri Mitchell
Genre: Christian Historical Fiction
Year: 2010
Book Source: Received for review from Bethany House Publishers