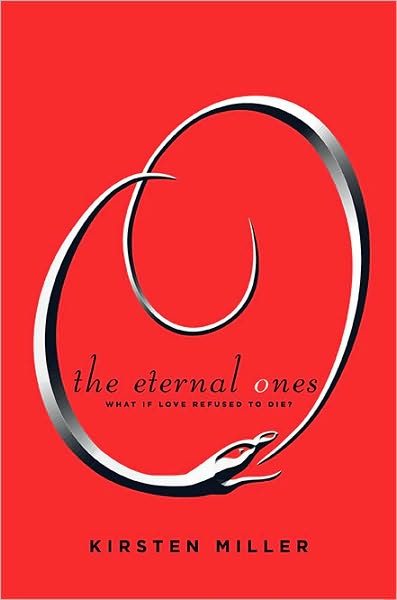 What if love refused to die?

Haven Moore can't control her visions of a past with a boy called Ethan, and a life in New York that ended in fiery tragedy. In our present, she designs beautiful dresses for her classmates with her best friend Beau. Dressmaking keeps her sane, since she lives with her widowed and heartbroken mother in her tyrannical grandmother's house in Snope City, a tiny town in Tennessee. Then an impossible group of coincidences conspire to force her to flee to New York, to discover who she is, and who she was.

In New York, Haven meets Iain Morrow and is swept into an epic love affair that feels both deeply fated and terribly dangerous. Iain is suspected of murdering a rock star and Haven wonders, could he have murdered her in a past life? She visits the Ouroboros Society and discovers a murky world of reincarnation that stretches across millennia. Haven must discover the secrets hidden in her past lives, and loves¸ before all is lost and the cycle begins again.
[from
Goodreads
]
Rating: 3.5 out of 5 boxes
Target Audience: Teens tired of bloodsucking immortals
High point: The emotional twists
Low point: The shaky mythology
Reader maturity: 15+
Several people likened this book to
The Immortals
series by Alyson Noel, which I really enjoyed. That said, a word of warning: this is not
Evermore
.
The Eternal Ones
is what happens when you take the teenage angst and drama out of the immortal equation. That's not better or worse; it's just different, so be prepared.
It's hard to look at
The Eternal Ones
without likening it to another series, but it's worth a try because
The Eternal Ones
certainly stands on its own. About 100 pages in, I finally realized that I needed to appreciate it for itself, without comparison.
I'm intrigued by immortals stories--they're a nice change from vampires and other supernatural creatures--but
The Eternal Ones
left me wishing for a little something more. The book follows Haven from her crazy, small town roots to New York and abroad as she chases after a hint of memory from a life before. I didn't quite follow the mythology and the supporting cast/storyline was a little shaky, but Kirsten Miller did a great job of twisting the reader's emotions. The close-mindedness and fanaticism of the members of Haven's hometown chilled me, especially since I was riding through the middle of nowhere while reading.
Just like Haven, I didn't know who to trust or where to go or which was up or down. With every twist in the story, especially concerning the Ouroboros members), I felt just as suspicious and jaded as Haven...and then just as elated when proven wrong. I didn't think the love interest was anything special, but the spark between him and Haven and the mystery of their relationship makes up for flaws in the backstory. I loved the historical flashbacks; they were like all the good bits of historical fiction thrown into a paranormal. How could you not love that?
Though I was hoping for something with a little more grace and flow (and I would've loved to learn more about the mysterious Ouroboros Society), overall I enjoyed
The Eternal Ones
and would recommend it to anyone looking for a paranormal change of pace. Keep in mind that this is a book for older teens. There's nothing explicit, but the suggestions and language might be a little much for the younger ones.
[I'm not really sure where this book came from. It just showed up in the mail one day, presumably from the publisher. Thank you, Razorbill, for sending me an ARC for review!]
Title: The Eternal Ones
Author: Kirsten Miller
Genre: Teen Fiction - Romance & Friendship
Year: 2010
Book Source: Received ARC from Razorbill for review