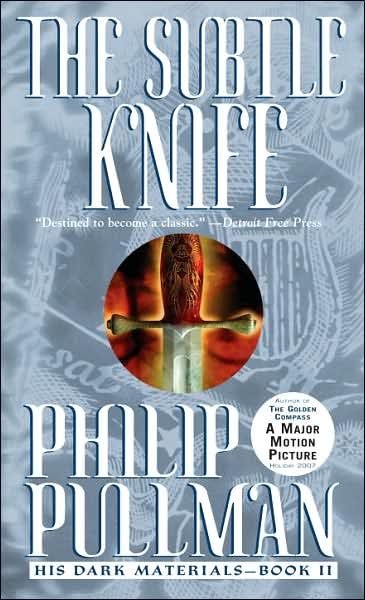 The intrepid young Lyra has passed through a shimmering portal in the sky and finds herself in a beautiful, haunted otherworld--Cittagazze, where soul-eating Specters stalk the streets and wingbeats of distant angels sound against the sky. But she is not without allies: twelve-year-old Will Parry, fleeing for his life after taking another's, has also stumbled into this strange new realm.
On a perilous journey from world to world, Lyra and Will uncover a deadly secret: an object of extraordinary and devastating power. With every step, they move closer to an even greater threat--and the shattering of truth of their own destiny.
[from the back cover of
The Subtle Knife
]
Rating: 3.5 out of 5 boxes
Target Audience: Harry Potter fans, LOTR fans, anyone who wants a fantasy tale in diet form
High point: The world
Low point: Lyra
Reader maturity: 13+
I've had a lot of luck with 2nd novels lately. Often they fall victim to the 2nd novel curse: a bridge between books, as I read somewhere today.
The Subtle Knife
is definitely a bridge...but you don't have to know (or like) what happens in
The Golden Compass
to appreciate the actions in
The Subtle Knife
.
Lyra makes less of an impact in
The Subtle Knife
, which is probably one of the reasons why I enjoyed it so much more. Aside from sharing the spotlight with the charming and mature Will, she's also grown up somewhat and recognizes that people other than herself matter. (That's a HUGE step for her.)
The Subtle Knife
was filled with nonstop action and scary new creatures. The witches feature more heavily here, adding, in a strange way, a more human element. Of course, Lyra's mother and a strange, evil man make an appearance in a normal and yet extremely threatening way. The two children deal with very adult problems--lies, deception, subterfuge--and they handle it all very well, making mistakes along the way but learning important lessons about real life. Will has a bright future ahead of him, and I'm excited to see what he and Lyra can accomplish next.
Title: The Subtle Knife
Author: Philip Pullman
Genre: Fantasy Fiction
Year: 1997
Book Source: Purchased