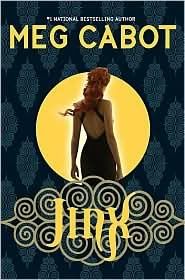 It's not easy being Jinx.

Jean Honeychurch hates her boring name (not Jean Marie, or Jeanette, just . . . Jean). What's worse? Her all-too-appropriate nickname, Jinx. Misfortune seems to follow her everywhere she goes—even to New York City, where Jinx has moved to get away from the huge mess she caused in her small hometown. Her aunt and uncle welcome her to their Manhattan town house, but her beautiful cousin Tory isn't so thrilled. . . .

In fact, Tory is hiding a dangerous secret—one that could put them all in danger. Soon Jinx realizes it isn't just bad luck she's been running from . . . and that the curse she has lived under since the day she was born may be the only thing that can save her life.
[from
Goodreads
]
Rating: 3 out of 5 boxes
Target Audience: Anyone looking for a witchy brew
High point: The formula; why mess with what works?
Low point: The formula...it didn't pop
Reader maturity: 13+
Jinx
reminded me of several recent Meg Cabot novels, such as
Airhead
and
Avalon High
. It's fun and it's cute but it's not particularly memorable. That doesn't mean you shouldn't read it; it's still a fun romp for a summer evening, especially if you're a sucker for a ridiculous love story (cute guy meets jinxed girl...you get it) like I am.
Jinx
was a cute witchcraft story, focusing more on Jinx and her teenage issues--presented in a reasonable way, they didn't make me roll my eyes or anything--than on witchcraft, which I appreciated. Jinx's cousin was pretty out there and had me worried for a while as to where the story was going (and I'll admit, I skipped to the end to assure myself of the ending). It was typical Cabot-happiness though, with ups and downs and several parts that made me laugh aloud. Of course, there's the ought-to-be-unattainable-but-nice hot guy and the catty friends and the good bestie. It's a predictable formula, but it works.
Title: Jinx
Author: Meg Cabot
Genre: Teen Fiction - Girls & Young Women
Year: 2007
Book Source: Purchased