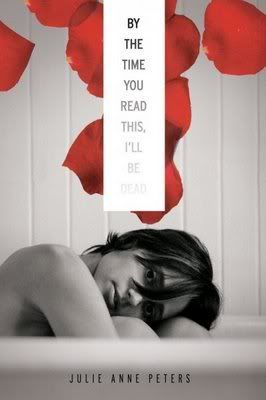 Daelyn Rice is broken beyond repair, and after a string of botched suicide attempts, she's determined to get her death right. She starts visiting a website for "completers"- www.through-the-light.com.

While she's on the site, Daelyn blogs about her life, uncovering a history of bullying that goes back to kindergarten. When she's not on the Web, Daelyn's at her private school, where she's known as the freak who doesn't talk.

Then, a boy named Santana begins to sit with her after school while she's waiting for her parents to pick her up. Even though she's made it clear that she wants to be left alone, Santana won't give up. And it's too late for Daelyn to be letting people into her life. Isn't it?
[from
Goodreads
]
Rating: 4 out of 5 boxes
Target Audience: Anyone on the fringe...
High point: The emotional involvement
Low point: Really hard to take in
Reader maturity: 15+
Wow.
By the Time You Read This, I'll Be Dead
is an incredibly powerful book. While its message is one of hope for the future, do
not
read this if you're not in a stable state of mind. It's poignant and emotional; Daelyn's pain rolls of the pages in waves, threatening to drown the reader in sorrow but managing at the last minute to pull back and provide but a glimpse of Daelyn's pain. Even with all of that, the novel has its moments of humor and lightness, though even the lightness has a dark side.
By the Time You Read This, I'll Be Dead
would be great reading for parents or friends of teens with depressive tendencies. It provides an insight into a little seen world without being unbearably heavy. Julie Anne Peters did an amazing job of showcasing the changes to the thought process that occur with both the teenage years and depression. Like the fictional website in the novel, the author neither promotes or decries suicide, but the positive message, though subtle, exists strongly enough to drive home the message without becoming preachy.
Daelyn is a jaded, lost main character that speaks to the angsty teen that most of us once were. Her parents are clueless, like so many real parents and friends. Their love for her is obvious, though she doesn't see it. They try hard to be good, to do what's right and still they don't see. The parent-child relationship was very realistic. I felt sorry for both Daelyn and her parents; they were both searching blindly but couldn't find the path, together or alone.
The flashbacks and hints at Daelyn's past are ingeniously woven into the tapestry of the story, never detracting or distracting. I spent page after page hoping for a happy ending. The side characters are few, due to Daelyn's insistence on being alone, but they're crafted with skill and a quality that makes them leap from the pages in the instances where Daelyn lets them in.
Overall, I was very impressed by
By the Time You Read This, I'll Be Dead
. It far surpassed my expectations and is a stunning glimpse into the darker side of teenage life. Due to the intensity of the plot, I can't give it 5 out of 5 because it's going to be a while before I'm able to read it again. It's definitely worth your time, though.
Due to the subject matter, the novel may not be appropriate for young teens. There's also some swearing and some pretty intense emotional scenes, but if you can handle it, it's a powerful story.
Title: By the Time You Read This, I'll Be Dead
Author: Julie Anne Peters
Genre: Fiction - Contemporary
Year: 2010
Book Source: Won an ARC from Books Make Great Lovers