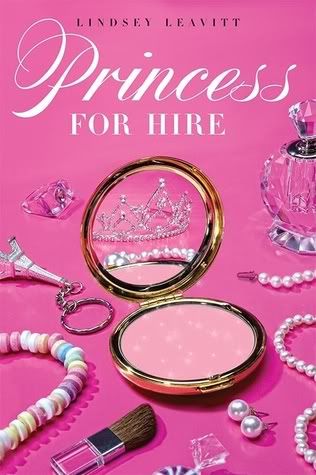 When a well-dressed woman steps out of a bubble and wants to know if you'd like to become a substitute princess, do you
A) run
B) faint
C) say yes?
For Desi Bascomb, who's been longing for some glamour in her Idaho life, the choice is a definite C). Desi has a rare ability: with the help of "Royal Rouge," she can temporarily transform into the exact look-alike of any princess who needs her subbing services. Dream come true, right?
Well, Desi soon discovers that subbing involves a lot more than wearing a tiara and waving at cameras.... In this winning debut, one girl's dream of glamour transforms into the desire to make a positive impact. And an impact Desi makes, one royal fiasco at a time.
[from
Goodreads
]
Rating: 5 out of 5 boxes
Target Audience: Pretend princesses, of course!
High point: Desi, her jobs, the absolute fun of the novel
Low point: Not knowing if there's a sequel
Reader maturity: 13+
Princess for Hire
is one of the cutest, most adorable, lovable, laugh-out-loud-able, you're-going-to-have-to-pry-this-from-my-cold-dead-fingers awesome books I've read in a while. Whew.
Okay.
Pardon me for a minute while I re-tie my hair. It's gone all over the place. I didn't expect to get quite that excited about it.
Now then...
Princess for Hire
was fantastic. Five out of five, for sure! Lindsay Leavitt has crafted the latest Cinderella story, newly updated for the modern girl and with makeup and magic and dunk tanks aplenty. In
Princess for Hire
, the newest princess for hire, Desi, personifies three different princesses of varying rank and tries to convince the Rainbow Council and her mentor that she's ready for the job.
It's rare that I actually laugh aloud while reading, but I found myself chuckling repeatedly and sympathizing with the main character, Desi. Desi is a really funny, strong, self-aware narrator, and while she struggles with a typical boy problem, she doesn't let it redefine who she really is. Even in the face of what the "real" princesses consider adversity, she stands up for herself/them and puts their lives back on track. She's also got a huge heart and her princesses' best interests in mind.
I don't want to ruin the story so I won't go into much detail, but I will say that each princess has her own set of problems. They're handled with grace, not only by Desi, but also by Ms. Leavitt, who treats each character with respect. While their issues may be stereotypical, the presentation of them is not. Self esteem and respect are hot topics in the novel, but they never feel forced or preachy. They're simply feel-good by-products of Desi and the plot.
I couldn't find if there's a sequel in the works, but I would love it if one was! A follow-up on the princesses Desi emulated would be fun, and of course, more of Desi's adventures would be welcome. If you're looking for a light read that still has plenty of endearing substance with a healthy dash of comedy, you should definitely pick up
Princess for Hire
.
Title: Princess for Hire
Author: Lindsey Leavitt
Genre: Fiction - Fantasy
Year: 2010
Book Source: Won from Read This Book!