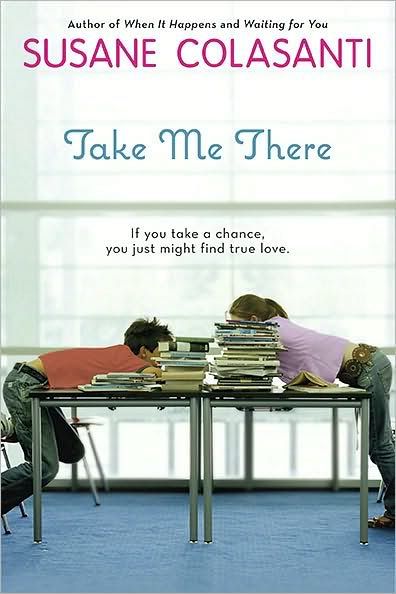 In one short week . . . three lives change.

Rhiannon is devastated after the breakup with her boyfriend and wants him back. Nicoles ex is still in the picture, but she can't help having a new crush. James and Rhiannon are just friends, though he may try to take it to the next level. Will their desire to take a mean girl down a notch bring these three friends what they want . . . and more?
[from
Goodreads
]
Rating: 3 out of 5 boxes
Target Audience: Anyone looking for a sweet, young-love story
High point: The narrative style
Low point: Possible cringe-worthy moments
Reader maturity: 13+
Take Me There
was a cute story that was the perfect beach read. Even the threat of a repeat hardshell crab attack didn't sway me from my mission to follow Rhiannon, Nicole and James as their high school drama unfolded. Normally I don't like contemporary YA, and while I didn't looove
Take Me There
, that's purely because contemporary isn't my favorite. It had me laughing aloud in several places and, I'll admit, skipping ahead to make sure everything was going to turn out okay. Perfectly beachworthy.
Rhiannon, one of the three narrators, had me a little bit concerned with the fate of the novel. She's boy crazy and a little bit...intense. My neck was on pins and needles waiting to cringe (ditto for the best friend, Nicole), but I needn't have feared...too much. Our heroines were much more level-headed than I initially gave them credit for. The narration is unusual in that all three narrators advance the story, but they also retell the same episodes from their own points of view. That balance is what really saved the novel from becoming too teen-y for me.
Take Me There
is balanced in a different way as well. While mostly a fun story about love and friendship, it also touches on the harsh truth of physical and emotional abuse. The take on those difficult issues is respectful and keeps the novel from being too fluffy. Overall, I enjoyed it, and I'm really glad I picked it to take to the beach!
Title: Take Me There
Author: Susane Colasanti
Genre: Teen Fiction - Romance & Friendship
Year: 2008
Book Source: Purchased