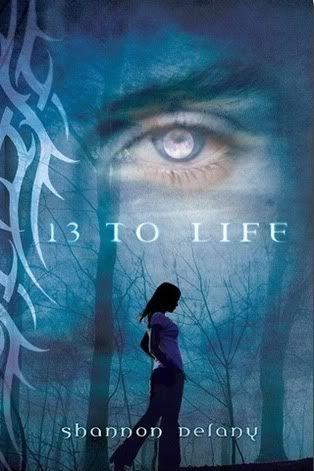 Something strange is stalking the small town of Junction…

When junior Jess Gillmansen gets called out of class by Guidance, she can only presume it's for one of two reasons. Either they've finally figured out who wrote the scathing anti-jock editorial in the school newspaper or they're hosting yet another intervention for her about her mom. Although far from expecting it, she's relieved to discover Guidance just wants her to show a new student around—but he comes with issues of his own including a police escort.

The newest member of Junction High, Pietr Rusakova has secrets to hide--secrets that will bring big trouble to the small town of Junction—secrets including dramatic changes he's undergoing that will surely end his life early.
[from
Goodreads
]
Rating: 4 out of 5 boxes
Target Audience: Readers surfing the werewolf wave
High point: Jessie's REALness
Low point: Nothing specific...
Reader maturity: 13+
13 to Life
is an immensely good book. Sure, sure, I might've been swayed by the blue tattooed cover or the fact that my name is scrawled in gold pen on the title page...but I wasn't.
13 to Life
is definitely worth the read, whether you buy it at the bookstore or stumble across it in the library. It's different in that it's a werewolf novel that doesn't center around werewolves or dredge up a host of already familiar mythology. Instead, we're treated to the world of the Russian Mafia, small town Junction and a refreshingly normal teenage girl.
Jessie is my kind of main character; she's smart and studious and responsible and has a good head on her shoulders. She does some wild-for-her things in the novel, but she takes the reader along as she stretches out her metaphorical wings.
I figured out, long before Jessie, what the mysterious dark things were, but it didn't ruin the novel. I enjoyed the journey to Jessie's discovery of them. Jessie and Pietr have an interesting relationship. That's one part of the novel that truly surprised me. I didn't expect them to continue on as they did for so long, but it felt better to me than if they had fallen head over heels and secluded themselves in their own little world.
Even though this is the first in a series, it never felt dry or dull; it works very well as a stand-alone novel, containing romance and action and mystery. It's also quite clean, so it's enjoyable for all YA readers and has elements to appeal to all of them. I can't wait for the sequel,
Secrets and Shadows,
to continue unraveling the secrets of Junction.
Title: 13 to Life
Author: Shannon Delany
Genre: Fiction - Supernatural
Year: 2010
Book Source: Won from Aine's Realm