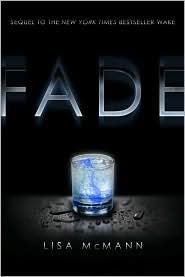 For Janie and Cabel, real life is getting tougher than the dreams. They're just trying to carve out a little (secret) time together, but no such luck.

Disturbing things are happening at Fieldridge High, yet nobody's talking. When Janie taps into a classmate's violent nightmares, the case finally breaks open -- but nothing goes as planned. Not even close. Janie's in way over her head, and Cabe's shocking behavior has grave consequences for them both.

Worse yet, Janie learns the truth about herself and her ability -- and it's bleak. Seriously, brutally bleak. Not only is her fate as a dream catcher sealed, but what's to come is way darker than she'd feared....
[from
Goodreads
]
Rating: 3.5 out of 5 boxes
Target Audience: YA paranormal fans
High point: The aftertaste
Low point: The lack of communication
Reader maturity: 15+
Having experienced the drama of
Wake
, I was eager to read
Fade
and see if the intensity could continue. It did, 100%. In
Fade
, Janie's on a mission, learning the truth about events at her high school and uncovering the dark consequences of her abilities.
Fade
was a much more enjoyable experience for me, in that the story moves along at a faster clip, with more action and an extra (and interesting) plotline. Janie is still prone to drastic emotional high-lows, as is Cabe, but in
Fade
, she strives to operate on a more even keel than in the previous book. Cabe and Janie have some serious communication issues, but their affection for one another is not only natural but necessary.
The writing style is the same as in
Wake
, although it took less time for me to acclimate myself to the third person, present tense this time. After finishing
Fade
late one night, I bemoaned the fact that there's no such thing (around here) as a 24 hour bookstore. I can't wait to read
Gone
!
Title: Fade
Author: Lisa McMann
Genre: Teen Fiction - Suspense
Year: 2009
Book Source: Won from Shooting Stars Mag