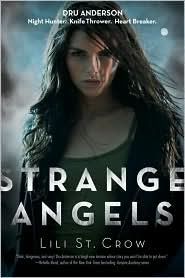 Dru Anderson has what her grandmother called "the touch." (Comes in handy when you're traveling from town to town with your dad, hunting ghosts, suckers, wulfen, and the occasional zombie.) Then her dad turns up dead—but still walking—and Dru knows she's next. Even worse, she's got two guys hungry for her affections, and they're not about to let the fiercely independent Dru go it alone. Will Dru discover just how special she really is before coming face-to-fang with whatever—or whoever— is hunting her?
[from
Goodreads
]
Rating: 2.5 out of 5 boxes
Target Audience: Riders of the paranormal bandwagon
High point: The menagerie of supernatural critters
Low point: Dru...and the tagline
Reader maturity: 15+
I really, really thought I was going to love
Strange Angels
. It had been taunting me for months on my Amazon list, flashing its shiny cover letters and making me shiver to think that the girl on the cover might be a zombie. (She's not.) But sadly, my expectations were much greater than the book itself. It's not bad; if you find it at your library or a really good sale, you might as well pick it up. It's not, however, at all like I thought it would be.
The main character, Dru, is a night hunter and maybe a knife thrower, but she's definitely not a heartbreaker. (I'm referencing the tagline on the cover, btw.) So I felt sort of cheated to start off with. After that, Dru waffled around, vacillating between being totally kick-some-rear-end awesome to being sort of a tool to her one and only friend to being kinda dumb
about
her one and only friend. She does point out that she's lost without her dad, but then she goes off and tries to take control of everything in her "usual" manner. It was discordant, and I found her immaturity grating.
Aside from Dru, the characters are pretty fun. I wish we'd seen more of Dru's dad, but Graves and Christophe were really entertaining, particularly in their interactions with each other. I didn't quite believe in Graves-and-Dru, but they have a few awww-inducing scenes. Graves, individually, was pretty cool--laidback and sweet and saying "The first one's free" all the time. That line makes me chuckle in real life every time I find it situationally appropriate.
While nothing groundbreaking, the plot was well put-together, combining vampires and werewulfen and other supernatural creatures for a truly unique story. If you'll pardon the comparison, it was like reading about an episode of
Supernatural
with a girl MC instead of the Winchester boys, sort of fun and adventurous and exciting and chill-inducing all at the same time (and with lots of guns).
So will I pick up the sequel,
Betrayals
? If it falls into my hands at the right price, yes. While not my favorite book ever, the sequel will still be worth my time.
Title: Strange Angels
Author: Lili St. Crow
Genre: Fiction - Supernatural
Year: 2009
Book Source: Purchased