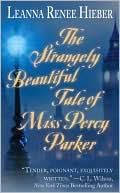 What fortune awaited sweet, timid Percy Parker at Athens Academy? Hidden in the dark heart of Victorian London, the Romanesque school was dreadfully imposing, a veritable fortress, and little could Percy guess what lay inside. She had never met its powerful and mysterious Professor Alexi Rychman, knew nothing of the growing shadows, of the Ripper and other supernatural terrors against which his coterie stood guard. She saw simply that she was different, haunted, with her snow white hair, pearlescent skin and uncanny gift. This arched stone doorway was a portal to a new life, to an education far from what could be had at a convent-and it was an invitation to an intimate yet dangerous dance at the threshold of life and death...
[from
Goodreads
]
Rating: 4 out of 5 boxes
Target Audience: Paranormal fans of many ages
High point: The lyrical quality of the story
Low point: The love interest age difference
Reader maturity: 13+
Many months ago, I read a review of
The Strangely Beautiful Tale of Miss Percy Parker
that said the title was incredibly apt. Pfft, I thought, not understanding. Then I read the book, and it's true: it is the strangely beautiful tale of Miss Percy Parker.
It has all the trappings of a great novel: a romance between an (adult) teacher and his (adult) pupil, a woman scorned, an evil temptress, the happy-go-lucky guy pals, one staunchly loyal friend...There's magic and birds and long robes and turn-of-the-century manners. It's a contemporary-type paranormal tale set in a much older England.
Percy herself was quite a joy to travel with. She was delicate and strong and level-headed. While progressive, she didn't take on a 21st century attitude, as often happens in historically based novels. Her behavior would have, I'm sure, been scandalous at the time, but it fit into the story nicely. If anything, Percy was a little too meek at times, but then she...ah, well, that's the story, isn't it? You'll have to read it to find out!
The scenery and backdrops were gorgeously described, as were the clothes and habits of the characters. Leanna Renee Heiber writes to transport her readers to another world, more refined, more solemn and, of course, more magical. The pages simply came to life, which is no easy feat under the best of circumstances and, believe me, I didn't read this under the best of circumstances. If I can time travel to Athens Academy on a 9 day road trip with a car full of friends and a back seat full of crackly snacks, you can thoroughly enjoy the adventure too. I hope you will!
The only thing that really threw me off with this book is that Professor Alexi is quite a bit older than Percy. That may all have been well and good during the setting of the novel, but I had to keep faking myself out and pretending he was younger.
Other than that,
The Strangely Beautiful Tale of Miss Percy Parker
...was.
Title: The Strangely Beautiful Tale of Miss Percy Parker
Author: Leanna Renee Hieber
Genre: Fiction - Supernatural
Year: 2009
Book Source: Purchased