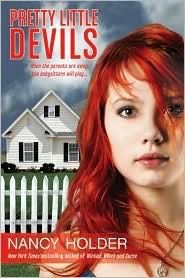 Hazel Stone wants nothing more than to be a part of the hottest clique in school, the Pretty Little Devils. She's got the style, she's cool enough, so how did she end up at a lunch table full of high school C-listers? Hazel has resigned herself to life as a nobody, when suddenly everything changes. Sylvia, queen bee of the PLDs, invites Hazel to one of the group's famous soirees—held at the site of their babysitting jobs.
Before Hazel knows it, she's in with the in crowd—and she couldn't be more thrilled!
But popularity comes with a price. Especially when one of Hazel's classmates becomes jealous of her newfound status—deadly jealous.
And you know how school gossip can just rip a girl to shreds . . .
[from
Goodreads
]
Rating: 1 out of 5 boxes
Target Audience: Tweens?
High point: The twist
Low point: Teenspeak
Reader maturity: 15+
What to say about
Pretty Little Devils
? It really wasn't my thing so I'll keep this short and sweet.
While reading, I had a flashback to grade school, back before (*gasp*) YA could be good literature.
Pretty Little Devils
felt like a novel for teenyboppers who couldn't be convinced to read anything that wasn't full of LOLs and OMGs and backstabbing gossip.
Though overshadowed by too many abbreviations, the mystery in the book actually isn't half bad. The ending--worthy of Shyamalan if he wrote for people not yet old enough to drive--definitely surprised me. That's really the only redemption for me. I just couldn't get past all the mean-girl spirit.
Title: Pretty Little Devils
Author: Nancy Holder
Genre: Fiction - Contemporary
Year: 2007
Book Source: Won from Writer's Block Reviews