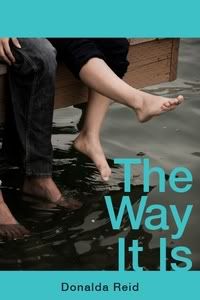 To Ellen Manery, a brilliant, introverted, socially isolated fifteen-year-old, there is nothing good about the summer of 1967, especially when her parents decide to move to a small town in the interior of British Columbia. None of the big ideas of the decade – the civil rights movement, the sexual revolution, women's rights – have had much of an effect on this small community.

Ellen has always been more interested in studying than a social life, but that begins to change when she meets Tony Paul, an eighteen-year-old who is a Shuswap Indian and lives on the nearby reserve. It is Tony's friendship that gives Ellen the strength to endure the loneliness, racism, discrimination, and antifeminism she must face during her last year in high school. But as their friendship turns into something deeper, they must decide if they can break free of the small minds around them and forge their own future.
[from
Second Story Press
]
Rating: 4 out of 5 boxes
Target Audience: Anyone who's ever been on the outside looking in
High point: The history
Low point: Tony's melodrama
Reader maturity: 13+
When I read the synopsis for
The Way It Is
, I automatically assumed it would be about sexism, prejudice and racism in the US, so when I opened it to find that it was about Canada's First Nations, I was pleasantly surprised. That's not a topic that occurs often in the books I read, and I knew very little about Canada's history except through Kathy Reichs' mysteries.
The Way It Is
is a 1960s historical novel that doesn't feel stuck in the past because the message is as applicable today as it was 50 years ago. The main character, Ellen Manery, has been raised by her parents to buck the norm and be all that she can be, but when her family moves to a small town, the prejudices of the people there begin to infect her own family. In fighting back against small town minds, she discovers that it's okay not to be invisible.
Ellen is a great role model, even for girls of today. She's polite but firm in her dealings with the chauvinists and bigots around her. Her mother, too, is a strong female character, both in the way she raised Ellen, but also in her support of Ellen and Ellen's father.
Tony, the only Indian in Ellen's high school class, was a tad melodramatic, but beyond that, he made some very good arguments about the treatment of the First Nations without sounding preachy or whiny. He teaches Ellen some valuable lessons about blossoming versus just subsisting, while fighting his own battles to overcome his past.
I really enjoyed learning about the 1960s in Canada, not only because that's a time period and setting rarely seen in my YA experience but also because it provides a very interesting backdrop for this type of coming-of-age story. Vivid descriptions enabled the characters to come alive from the pages, as well as the woods surrounding the resort run by Ellen's family.
The writing is solid, the plot is smooth and the message is unmistakable, though it never ventures toward reading like a tract or a history textbook. There are a few awkward moments in
The Way It Is
that make it suitable for readers in their mid-teens and above but nothing too shocking.
Title: The Way It Is
Author: Donalda Reid
Genre: Fiction - Historical
Year: 2010
Book Source: Received for review from Second Story Press