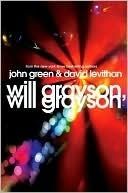 One cold night, in a most unlikely corner of Chicago, two teens—both named Will Grayson—are about to cross paths. As their worlds collide and intertwine, the Will Graysons find their lives going in new and unexpected directions, building toward romantic turns-of-heart and the epic production of history's most fabulous high school musical. Hilarious, poignant, and deeply insightful, John Green and David Levithan's collaborative novel is brimming with a double helping of the heart and humor that have won both them legions of faithful fans.
[from
Goodreads
]
Rating: DNF
Reader maturity: 15+
It makes me sad when I don't finish books, like I've failed as a reader. In the case of
Will Grayson, Will Grayson
, it's not so much that I
couldn't
finish but that over halfway through, I realized I had other books to read that I thought would be more worthy of my time.
Here at Bookish in a Box, I have no problem giving "bad" reviews because I feel that they're necessary in order for you to know where my enthusiasm lies on my rating scale. I also want to be honest with you. That said, I don't want to enter into anything overly negative, so I'll just quickly list why I didn't finish.
Narration from a male POV (2 actually)--For some reason, I prefer female narrators.
The topics--This is just personal preference.
The plot--This is due partially to both #1 and #2, but I just couldn't get into it.
Age appropriateness: There's some teenage-level swearing and topics, and the book also deals with one topic in particular that some people (and parents) may not be comfortable with.
Title: Will Grayson, Will Grayson
Author: John Green & David Levithan
Genre: Fiction - Contemporary
Year: 2010
Book Source: Won an ARC from Stiletto Storytime