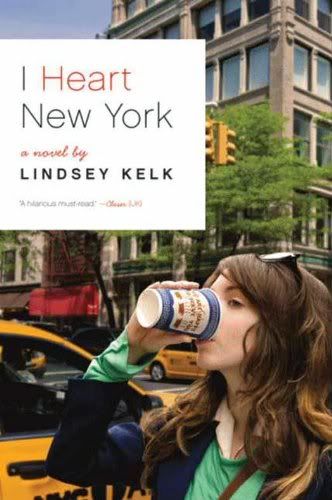 Angela Clark is in love—with the most fabulous city in the world! When Angela catches her boyfriend with another woman at her best friend's wedding, she's heartbroken and desperate to run away. With little more than a crumpled bridesmaid dress, a pair of Louboutins, and her passport in hand, Angela decides to jump on a plane for . . . NYC!Settling into a cute hotel and quickly bonding with benevolent concierge Jenny—a chatterbox Oprah wannabe with room for a new best friend—Angela heads out for a New York makeover, some serious retail therapy, and a whirlwind tour of the city. Before she knows it, she's dating two sexy guys and blogging about her Big Apple escapades for a real fashion magazine. But while it's one thing telling readers about your romantic dilemmas, it's another working them out for yourself. Angela has fallen head over heels for the city that never sleeps, but does she heart New York more than home?
[from
Goodreads
]
Rating: 2 out of 5 boxes
Target Audience: 20-something commitment-phobes
High point: The comedy
Low point: All the immaturity
Reader maturity: 15+
When I first started
I Heart New York
, I thought I was going to love it. It was funny and smart and reminded me of a cleaned-up Bridget Jones. About three chapters in, though, it became bogged down with material things, like handbags and clothes and makeup. Everything was so serendipitous, too...Only 2 "bad" things happened over the course of the novel. The main character didn't learn anything about herself except that, apparently, luck and good clothes bring good fortune.
One of the main characters' new "friends"--in quotes because she'd known them for about a week at the time--completely chewed her out for being selfish and self-centered and whiny, and all of it was true. I had a spark of hope when the main character promised a change, but she failed to follow through. The book was just more of the same, and I was relieved when I was finally finished.
There was also a great deal of swearing and sleeping around so it's not a book for the conservative crowd, and although it's not horrible, it's not one I'd recommend. Regardless of my opinion of the plot, the author has a knack for comedic writing, and I'd like to read something by her aimed at a younger crowd.
Title: I Heart New York
Author: Lindsay Kelk
Genre: Fiction - Contemporary
Year: 2009
Book Source: Won from I Just Wanna Sit Here and Read