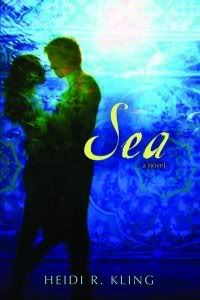 Haunted by recurring nightmares since her mother's disappearance over the Indian ocean three years before, fifteen-year old California girl Sienna Jones reluctantly travels with her psychiatrist father's volunteer team to six-months post-tsunami Indonesia where she meets the scarred and soulful orphaned boy, Deni, who is more like Sea than anyone she has ever met.

She knows they can't be together, so why can't she stay away from him? And what about her old best friend-turned-suddenly-hot Spider who may or may not be waiting for her back home? And why won't her dad tell her the truth about her mother's plane crash? The farther she gets from home, the closer she comes to finding answers.

And Sea's real adventure begins.
[from
Goodreads
]
Rating: 2 out of 5 boxes
Target Audience: Contemporary fiction readers
High point: Sea! She was an amazing character.
Low point: Didn't engage me
Reader maturity: 13+
Sea
was another case where my expectations were simply too high. Simply put, I was bored. I didn't
dislike
it; it just never grabbed my attention. I can't put my finger on why I didn't like it so I'll just run through a couple of points of interest.
Heidi R. Kling has great voice. I could hear the main character, Sienna, loud and clear, all through the book.
Sienna was a well-written and complex character, changing throughout the novel and testing her limits without ever straying from her true self, just like a real teenager. She was mature for her age, and yet her grief revealed the little girl still inside.
Spreading awareness about the aftermath of the tsunami (and, really, any natural disaster) through a novel can be a recipe for a lecture, but while Sea provided education and a lot of interesting information about Indonesia and the culture, the tone remained light.
The beginning and the ending had a lot of potential; it was the middle, after Sienna started making some questionable choices, that my brain tuned out.
The novel is clean and safe for readers of [most] ages.
Title: Sea
Author: Heidi R. Kling
Genre: Fiction - Contemporary
Year: 2010
Book Source: Won an ARC from Stiletto Storytime